Avanet's WeRent license bundle is designed for those customers who have already purchased a Sophos XG or XGS firewall and want to rent the Sophos Standard, Xstream or Epic Protection license flexibly per month or year.
Order license bundle
Simply select the firewall model, license and duration, add the product to the shopping cart and order as normal.
Use worry free
Once we have activated the license on your firewall, you can use it as long as you want.
Stay flexible
After the minimum rental period has expired, you can simply continue to rent the license or terminate the contract 30 days in advance.
Unbeatable price advantage
Thanks to automated processes, rental licenses generate less effort for us than the sale of fixed-term licenses. This means we can always offer a better price with the annual rental*.
Automatic extension
As soon as you obtain a license from the WeRent program, you can sit back and relax. We take care of the activation of the desired license, which remains activated on your firewall until you cancel the lease with us. The extension of the term takes place automatically in each case and you do not have to worry about anything**.
Flexible rental period
The rental licenses in the WeRent program are specially designed for customers who cannot or do not want to plan far in advance. For this purpose, we offer a flexible rental period starting at one month. A shorter rental period gives you the freedom to switch more quickly between the different Sophos license bundles (Standard, Xstream, Epic Protection) or to cancel the contract. On the other hand, if you choose a lease term of one year right away, you get two months for free. 🎁
* Starting with the XGS 2100, we have even managed to undercut the price of the purchase licenses for 2 years. If you want to pre-finance a license for 3 years, you are better off with the purchase licenses, at least in terms of price. ** For a rental period of one year, we send a reminder by email 60 days before each that the license will be renewed soon. So you get a fair chance to cancel the subscription in time if you don't want the automatic renewal.
Switch from a purchase license to a rental license
Your purchase license is about to expire and you would prefer to rent the Sophos license in the future? We can add a rental license to an existing XG or XGS firewall at any time. 👍
At the top of this page, simply select your current firewall model and the license you wish to rent. Add the product to the shopping cart and complete the order. For further information we will contact you afterwards.
Hardware Promo
Get up to 20% off a new Sophos XGS Firewall when you add a one-year license - while supplies last! 🤫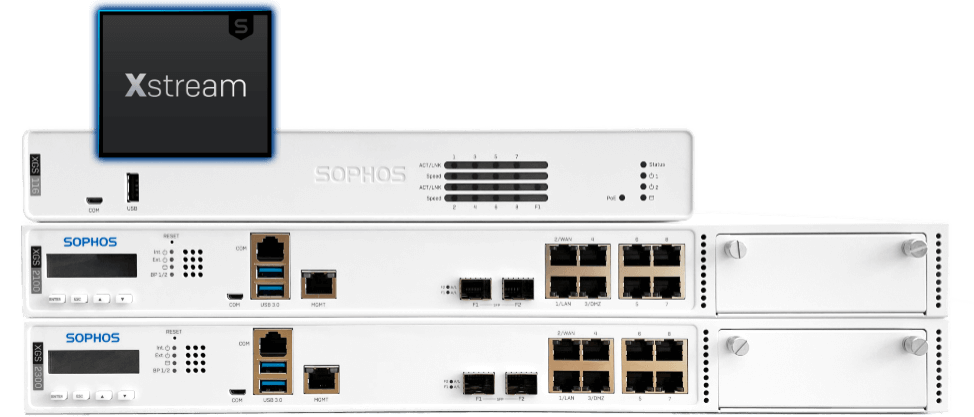 Frequently asked questions about the WeRent license bundle