Last chance for 1-year renewal – XG 85(w) and XG 105(w)
Sales of the XG 85(w) and XG 105(w) have already been discontinued on August 17, 2019. Anyone who wants to purchase a license for these devices again will have to hurry. The hardware goes end-of-life in August 2022.
Last renewal for XG 85(w) and XG 105(w)
We have already reported on the end-of-sale of the XG 85(w) and XG 105(w) firewall hardware. The time for the last renewal is getting closer and closer and with this article we would like to remind all owners of an XG 85(w) or XG 105(w) once again that until August 17, 2021 is the last possibility to renew the license for one year. All requests after this date cannot be processed.
Those who still rely on these models today and want to exhaust the renewal period until August 17, 2021, will certainly have their reasons. However, it is a fact that the two devices can already no longer be operated with the latest SFOS version. After v17.5x, the XG 85(w) and 105(w) are finished.
For this reason, you should think about switching to a current hardware. Sophos still lists the XG series as the successor product on its website.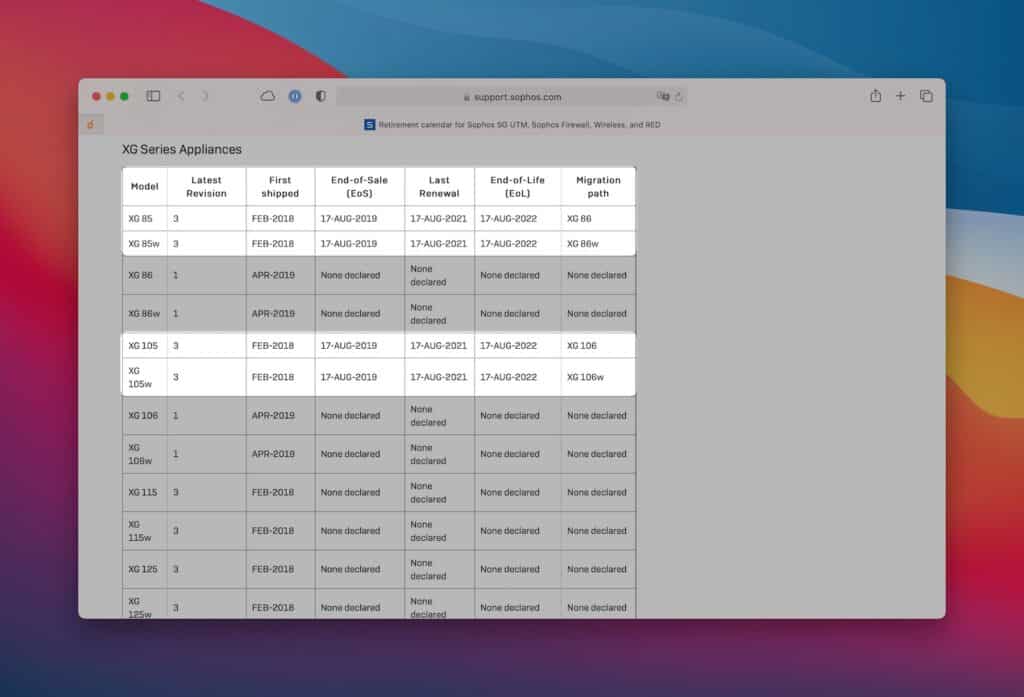 However, we would strongly advise against buying an XG Firewall now. This is because the XG series will go end-of-sale on September 30, 2021, and end-of-life at the end of 2024. In addition, the XGS series with more power was introduced on April 22, 2022. For these aforementioned reasons, we would suggest the following migration path:
It is better to do without the smallest desktop model
Basically, we always advise against buying the smallest firewall model. The performance is simply too limited, even if the throughput numbers in the data sheet don't look bad. It's possible that these values could even be reached, but even if they are, you'll have to do without the following features with the XGS 87 or 87w:
Reporting: storage of logs on the appliance (only possible via Central)
Web Protection: Filescan with two scan engines
Web Server Protection: Antivirus Scans
Email Protection: Message Transfer Agent (MTA)
The features listed above cannot be used with the smallest desktop model. There are no restrictions for all other firewall models.