The new XGS series also introduces new license bundles, which will also apply to XG firewalls (or SG firewalls with SFOS) from June.
Individual licenses
The individual licenses have remained more or less the same. These can still be purchased in 1, 2 or 3 year variants and, depending on the region, also for schools as EDU or government organizations as GOV licenses. Here is an overview of all individual licenses as a refresher:
Base License: Stateful Firewall, VPN, Wireless
The Base license is included "free of charge" with every XG/XGS firewall and must only be purchased once for the virtual firewalls. There is no runtime here.
Network Protection: IPS, ATP, SD-RED Device Management
Web Protection: Web Security and Control, Application Control, Web Malware Protection
Zero-Day Protection (formerly Sandstorm): Machine Learning, Sandboxing File Analysis, Threat Intelligence
Central Orchestration (planned): SD-WAN VPN Orchestration, Central Firewall Reporting Advanced
Email Protection: Anti-spam, Antivirus, DLP, Encryption, Email Malware Protection
Web Server Protection: Web Application Firewall
Enhanced Support
Enhanced Plus Support (no longer exists): Here you should buy the "Enhanced Support" and then the "Enhanced to Enhanced Plus Support Upgrade".
Enhanced to Enhanced Plus Support Upgrade
License Bundles
Since in most cases several modules in the top list are needed at once to meet the requirements in a network, Sophos has combined a few individual licenses and offered them as a bundle at a lower price so far. The previously known FullGuard (Plus) and EnterpriseGuard (Plus) bundles have not been adopted for the new XGS series and the following bundles have been introduced instead:
Standard Protection
Base License
Network Protection
Web Protection
Enhanced Support
Xstream Protection
Base License
Network Protection
Web Protection
Enhanced Support
Zero-Day Protection
Central Orchestration
Epic Protection
Base License
Network Protection
Web Protection
Enhanced Support
Zero-Day Protection
Central Orchestration
Email Protection
Web Server Protection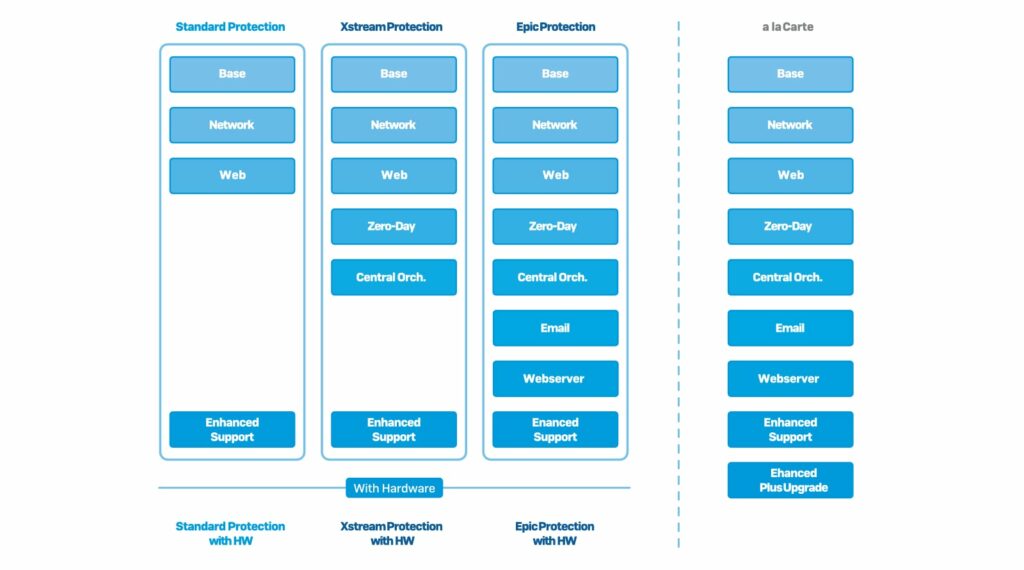 If you need all the modules, Epic Protection has you covered. Only if the Enhanced Plus support is needed, the upgrade would have to be purchased separately.
The bundles listed above are valid immediately for the new XGS Firewalls. From July 2021, the XG series will also be switched to these bundles. After that, FullGuard (Plus) or EnterpriseGuard (Plus) bundles can no longer be ordered.
Migration path for XG Firewall users
As mentioned above, the XG license bundles will also be adjusted from July 2021. Sophos has provided the following migration path for this purpose:
EnterpriseGuard → Standard Protection
EnterpriseGuard Plus → Xstream Protection
FullGuard → Epic Protection
FullGuard Plus → Epic Protection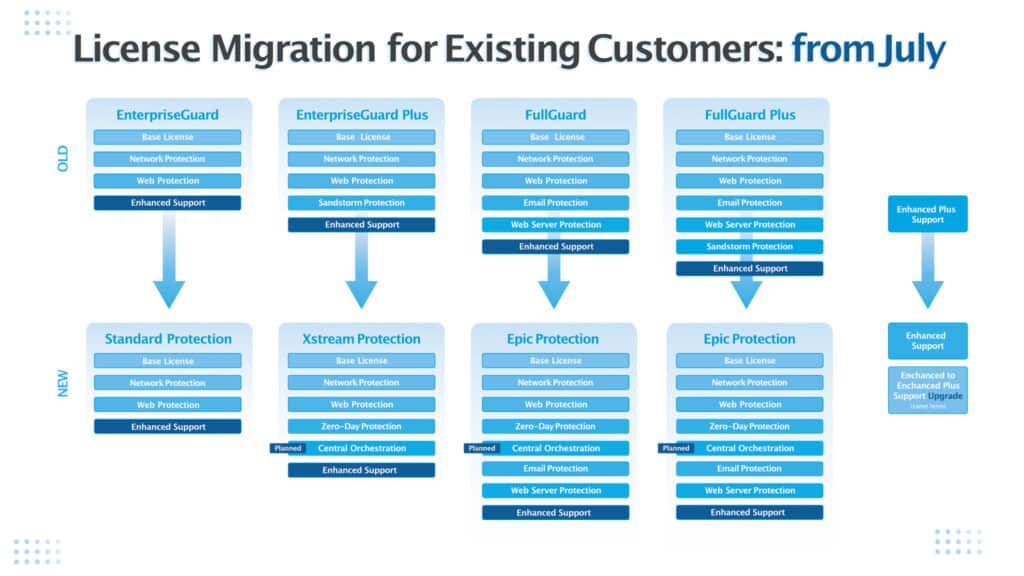 Hardware Bundles
The hardware bundles were previously the logical choice if you wanted to buy a new firewall together with a license bundle. These were always a bit cheaper than if you had bought the hardware and the license bundle separately.
With the launch of the XGS series, the previously known hardware bundles Total Protect (Plus) and Enterprise Protect (Plus) will also disappear. Sophos also offers hardware bundles for the firewalls of the XGS series, but judging by the current price list, the price advantage will disappear in the future.
Specifically, this means that you can get the XGS series together with a license bundle, like the Standard, Xstream or Epic Protection as a hardware bundle (combined as one item), but in terms of price it would be the same as adding the hardware and license bundle separately to your cart. 🤷🏼♂️
The new hardware bundles are also no longer named specifically, which makes it less complicated from our point of view:
Sophos [name der XGS Appliance] with Standard Protection
Sophos [name der XGS Appliance] with Xstream Protection
Sophos [name der XGS Appliance] with Epic Protection
Unlike the SG or XG series, you can set the license term to 5 years when purchasing a hardware bundle. While the single licenses or license bundles can only be purchased for 1, 2 or 3 years, the hardware bundle offers a choice of 1, 3 or 5 years.
Prices 📈
If we compare the prices compared to the XG series, we come to the conclusion that everything has become a bit more expensive. A close analysis of the new price list revealed the following:
The hardware has become more expensive
Yes, but the hardware also has more power. The bottom line is about 30-40%. In some places, it's even a 10-fold increase in performance. Future software releases will bring even more performance here, as certain processes can be outsourced to the new hardware even better.
The licenses have become more expensive
It has always been the case that hardware with more power also has higher licensing costs. One thought that comes to many is, of course, that if the hardware now has more power, then yes, you can switch to the smaller model and thus save on licensing costs. In some cases, switching to a smaller model of the XGS series makes perfect sense. But you really have to check the requirements carefully beforehand.
Renewal discount not applicable
Since Astaro times, renewing firewall licenses was about 5% cheaper than buying new. This is now also omitted.
Price advantage for hardware bundles no longer applies
As described, it is no longer cheaper to buy a hardware bundle instead of purchasing the hardware and license bundles separately. Customers who buy the hardware first and then use the 30-day trial license to find out which modules they really need are therefore no longer at a disadvantage. The appropriate license bundle or the appropriate single license can thus be easily purchased afterwards without any price disadvantage. However, offering a price advantage for hardware bundles would still have made sense from our point of view.
Concluding remarks
Sophos Firewall still offers the best price-performance on the market, despite the price increase. Of course, the critical reader will now think that it's easy to gloss over the situation at the end. But compare it with other well-known manufacturers that offer almost the same range of functions and excellent performance.