Have you received a postal letter from Sophos in the last few days advising you of the correct licensing of Sophos licenses? With this blogpost, we would like to provide a little education on this letter.
Background on the subject of license verification
We were informed by Sophos via Partner Newsletter on August 30, 2018 that our Sophos customers will receive a postal letter in September on the topic: "Are you still properly licensed?". As announced, these letters were sent out just three working days later, on 04 September 2018. Malicious tongues would now claim that the timing of this letter was perfectly timed to coincide with the start of the new quarter. But as I said, that would be an assertion, and this is supposed to be about facts.
The newsletter to us did not indicate which customers would receive mail from Sophos. The talk was only about "software licenses". Upon inquiry with Sophos, we have learned that all endpoint and mobile users will receive a letter. However, no consideration was given to customers who renewed their licenses only a month ago.
For UTM Firewall, Sophos Central and Classic, Sophos takes a "very conservative" approach to licensing, to use their own words. Sophos trusts their users to license the products they use correctly, and so far do not see the need to control this at the software level. It is therefore very easy to license fewer users than you actually have. The product will continue to work without any restrictions and only a warning message will appear in the dashboard. For this reason, Sophos simply sends out a letter to all customers.
You'd think a technology company like Sophos, which uses deep learning to find unknown malware, would be able to stop license violations in a different way. The fact that dead trees (paper) have to be shipped for this purpose probably refutes this assumption.
Check Sophos Central licenses
Sophos also asked us in their newsletter to help our customers license their products correctly. With Sophos Central, you can easily perform a license check yourself. Click on your account name in the top right corner of your Central Account and select "Licensing" from the dropdown.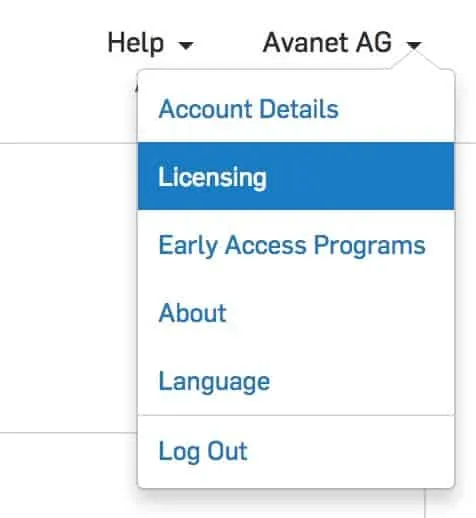 The following overview will now show you which licenses you are using. The Limit column shows the number of licenses you have purchased and are allowed to use. The value in the Usage column should therefore never exceed the value in the Limit column, as in the following screenshot. Otherwise you will see that in such a case a red speedometer icon appears.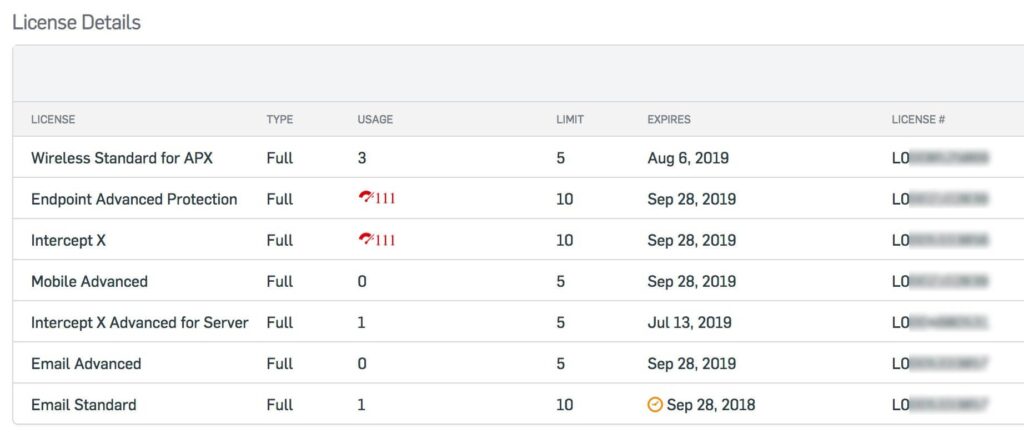 Since we know that Sophos also follows our blog, we would like to point out that the screenshot has of course been edited. We keep an eye out to make sure that such blatant underlicensing will not happen with our customers. 😇
If you realize after this license check that you still need to relicense, you can always contact us. It doesn't matter if you have purchased the licenses from another partner before! We will be happy to make you an offer so that you are properly licensed again in the future.