It's been just under 3 months since we wrote our last blog post. A lot has changed since then, as we've used this absence to introduce you to our new "Sophos News page" today. From now on, we will resume writing and diligently provide you with important information about Sophos. You will no longer find this at blog.avanet.ch, but here at sophos.avanet.ch/news/.
Update: Meanwhile we have moved to avanet.com. Therefore this URL has changed again. You can now find our blog on avanet.com/blog.
Nothing will change for our previous blog subscribers who have subscribed to our newsletter! You will continue to be informed about the latest articles by email without having to make any adjustments.
Why this change?
When we wrote our first blog post in December 2014, we were still at the beginning of our start-up after two years. We didn't know exactly which services to specialize in yet. At that time, our offers were still broadly diversified. This was also reflected in our blog, and so we wrote articles on remote desktop servers, web design, security, written manuals for Sophos and Office 365, and of course also provided information on the milestones we had reached in our own company, the Avanet. It was a colourful mix of many different themes. Even then we were bothered that someone who followed our blog would not be interested in every article.
As the Avanet's path began to take shape, and as we made our main business with Sophos, our blog posts were really all about Sophos. As these posts became more frequent, we also received more and more subscribers. This showed us that there was no longer any point in writing about other topics in the future. Our customers and subscribers want to read about Sophos. As we would like to bring all Sophos topics together under one roof with our new sophos.avanet.ch website, we have taken our blog off the net on 29.09.2017 and posted our new news page on sophos.avanet.ch/news/.
What's new?
What is sure to be noticed first is the new structure of the site. Older articles are now displayed smaller on the overview page, which makes it more convenient to browse through previous articles. To make it easier to sort Sophos articles by topic, we've created four new categories:
---
Sophos Central
In this category, we'll keep you up to date on every product in Sophos Central. Here we'll keep you informed about important updates, new features or new products that have been added to Sophos Central. But we'll also give you an insight into the roadmap from time to time, so you know what you can expect from Sophos Central in the future. With reviews and experience reports, we also help you to make the right decisions.
Sophos Firewall
This category is all about firewall hardware (SG, XG), but also about Sophos's firewall software (UTM, SFOS). Here we inform you about important firmware updates or new features and help you to make the right decisions with our reviews and experience reports. To help you understand Sophos's plans for the future, we'll also give you an insight into the current roadmap from time to time.
Sophos Marketplace
Do you regularly store in our Sophos store or already use our Sophos subscriptions in the licensing portal? Then this category is almost mandatory! Here we will inform you about price adjustments and when new Sophos products have been added or updated. We will also report on the further development of our new "Sophos Licensing Portal" here.
Security Life
In this category, we look at security in everyday life, but of course always in relation to Sophos products. Here we inform you about current threats, new viruses, security vulnerabilities and give advice on how to protect yourself against them with Sophos. We cover frontline and backstage news presented at Sophos roadshows and the annual Sophos Discover Conference.aIn this category, we focus on security in everyday life, but always with Sophos products in mind. Here we'll tell you about the latest threats, new viruses, vulnerabilities and how to protect yourself against them with Sophos. We will be reporting on new features at the forefront and backstage, which will be presented at Sophos Roadshows and the annual Sophos Discover Conference.
---
For instructions on Sophos products, please visit our Knowledge Base. Older tutorials from our blog have been transferred to our Knowledge Base a few days earlier.
These categories are not only used for easier navigation on our website, but are now also an integral part of our newsletter or RSS Feeds. This will allow you to decide for yourself which topics you are interested in and which articles you would like to be notified about.
Customize profile for existing subscribers
If you are already subscribed to our blog, theoretically you don't have to do anything and you will receive an email as before when a new article is available. But if you no longer want to be informed about every news, you can now click on the link "Update profile" at the bottom of the next e-mail notification. Then simply deselect the categories you no longer want to be informed about.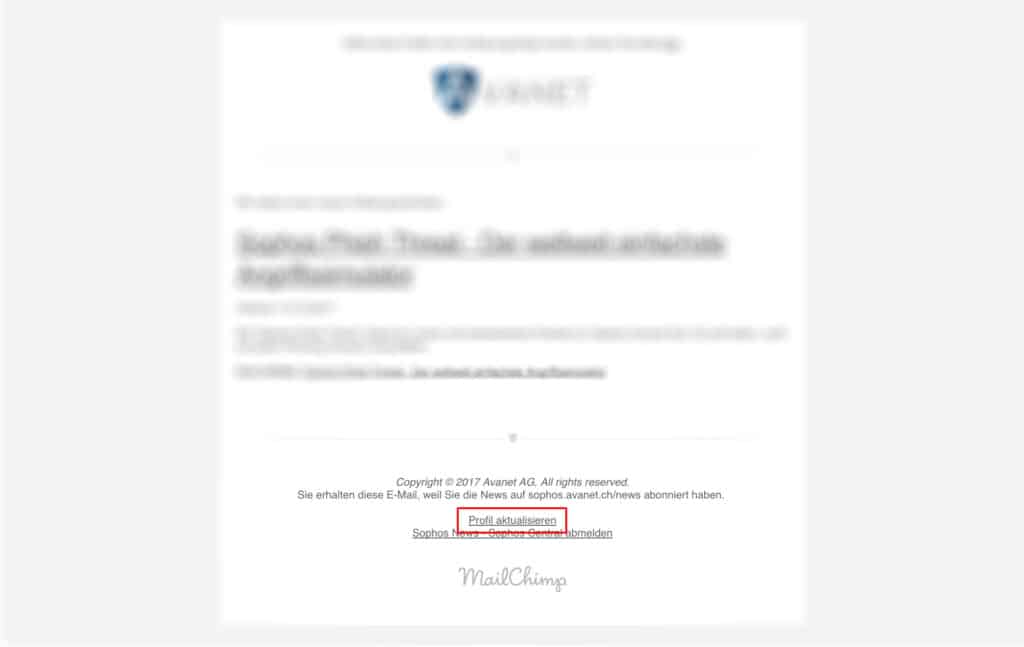 New "Follow us" page
In the course of the new news page we have also documented the possibilities to follow us. This is now described in detail on our follow us page.
We hope you enjoy our new news page and that we have made it easier for you to consume our news.