Sophos decided in October 2021 not to charge for WLAN management in the Central Console in the future. Until now, you had to pay an annual license fee (per device) to manage a Sophos Access Point in Central. This made the solution not very interesting for many of our customers, since managing access points through an XG or XGS firewall has always been free.Use Sophos Central for free!
Create a free Sophos Central account now and start managing your Sophos access points.Create account now
When Sophos introduced the new XGS series in April 2021, it was announced that the new firewalls would only support APX series management. This suddenly made the paid management of AP series access points via Central Wireless the only option if one wanted to switch to the new XGS series. We suspect that this fact was a showstopper for some customers and prevented them from switching to the new XGS firewalls.
To chase this fat elephant out of the china store, Sophos probably felt compelled to stop charging for Central WLAN Management. This, of course, has made the solution more attractive and will probably become the most widely used variant among Sophos customers in the future for managing access points in a central console.
In this blog post, we will briefly summarize what you can expect from Central Wireless and what features are offered.
Central WLAN management
With Sophos Central Wireless, you can configure your Sophos access points incredibly easily from your Central account. Connect an access point to the Internet and register it by entering the serial number in your Sophos Central account. After that, you can start configuring and creating a secure wireless network. Once the access point is up and running, you will see the status of your WLAN and all connected clients.
If you want, you can also set up a separate guest network with a daily password for visitors or external employees.
Simple configuration
After you have registered one or more Sophos access points in Sophos Central Wireless, you still need to configure a new network. But this is also done with Sophos Central Wireless in just a few clicks. You simply create a new SSID, give your network a name, choose a secure encryption method (WPA / WPA2 / WEP), define an encryption algorithm (AES TKIP/AES) and determine the desired frequency band (2.4 and / or 5 GHz). Of course, setting a secure password should not be missing at the end. This configuration then only needs to be assigned to an access point.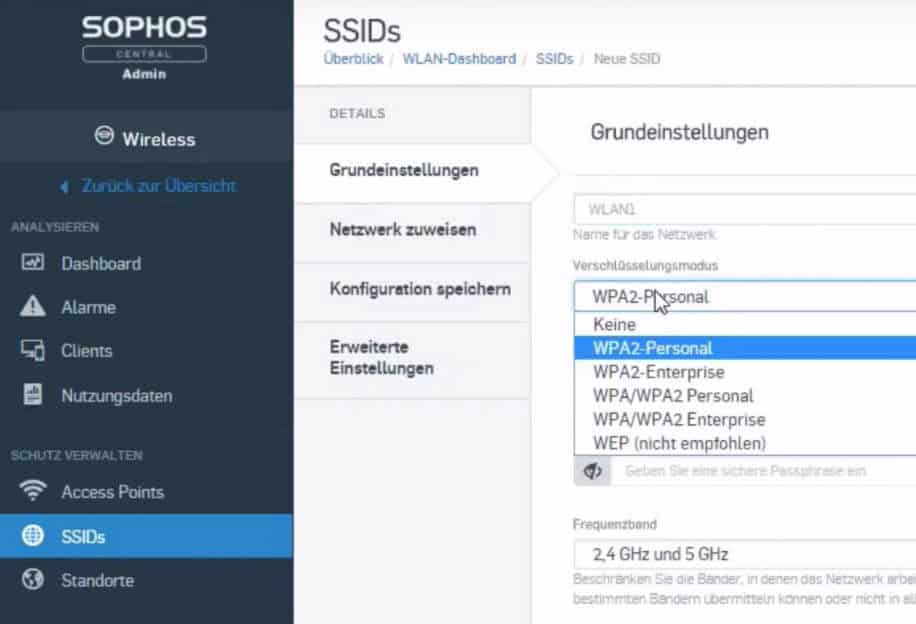 If you don't want the Wi-Fi to be available all the time, you can also restrict it to a limited time.
Manage locations
Keeping track of multiple access points quickly becomes a challenge. With Sophos Central Wireless, you'll never reach your limits when it comes to keeping track of your network. Simply store a description of the location for each access point. If there are several outposts, even the address can be stored to see the distribution on Google Maps.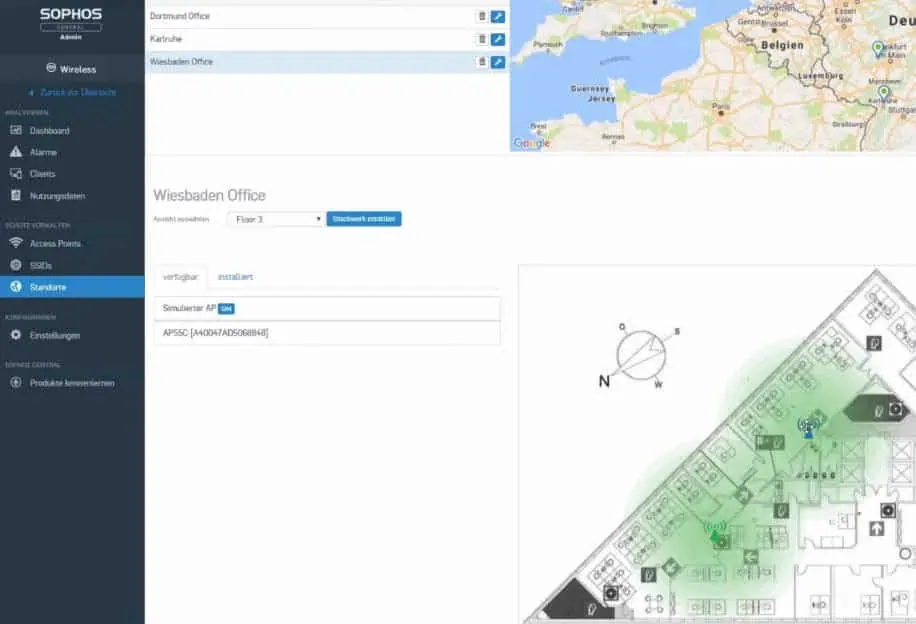 Not sure if two access points on your floor is enough? Simply upload a floor plan and simulate the distribution of your devices.
Create guest networks
Sophos Central Wireless allows you to create guest networks. This way you create a closed area for visitors or devices that you do not want to have in your company network. For authentication, you can choose between daily, weekly or monthly passwords, which are generated according to a fixed schedule. Once a new password is created, you can have your administrators or selected users notified by email.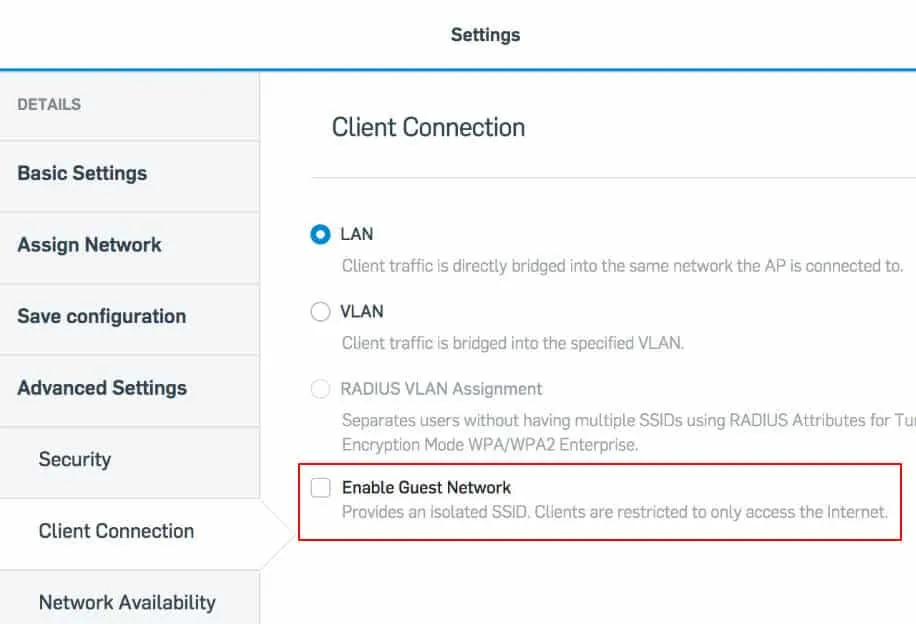 Voucher codes offer another option for authentication. Different codes are generated, which can either be used indefinitely or have a certain validity period.
Extend reach
With Sophos Access Points and Sophos Wireless, it is possible to connect APs without a network connection. With the so-called "mesh mode", the WLAN range can thus be increased in a very uncomplicated way. The SSID is passed on to each access point. The advantage here is that the wireless network can also be expanded without cables. The access point gets the network from the nearest access point in its vicinity and passes this on to a smartphone, tablet, laptop or other device.

More information
Data sheets
Videos
Blog