Add Sophos Access Point using the Onboarding Wizard
In this article, we will show you how to use the Onboarding Wizard to connect your first access point to Sophos Central Wireless.
Info: The Onboarding Wizard is only displayed when adding an access point for the first time. If an Access Point has already been linked, the Wizzard will not appear.
Requirements
Sophos Central Account
Sophos Access Point connected to power and network
Serial number (S/N) of the AP noted
Network requirements are met
Add Sophos Access Point
1. log in to the Sophos Central account
Log in to https://central.sophos.com to log in to Sophos Central Admin.
2. register Sophos Access Point
Click on the menu item Wireless in the sidebar. If you have not set up an access point before, the Onboarding wizard should open. Now add the serial number under Step 3 and click on Register. The access point is then searched for and registered. If a new firmware is still available for the AP, this will be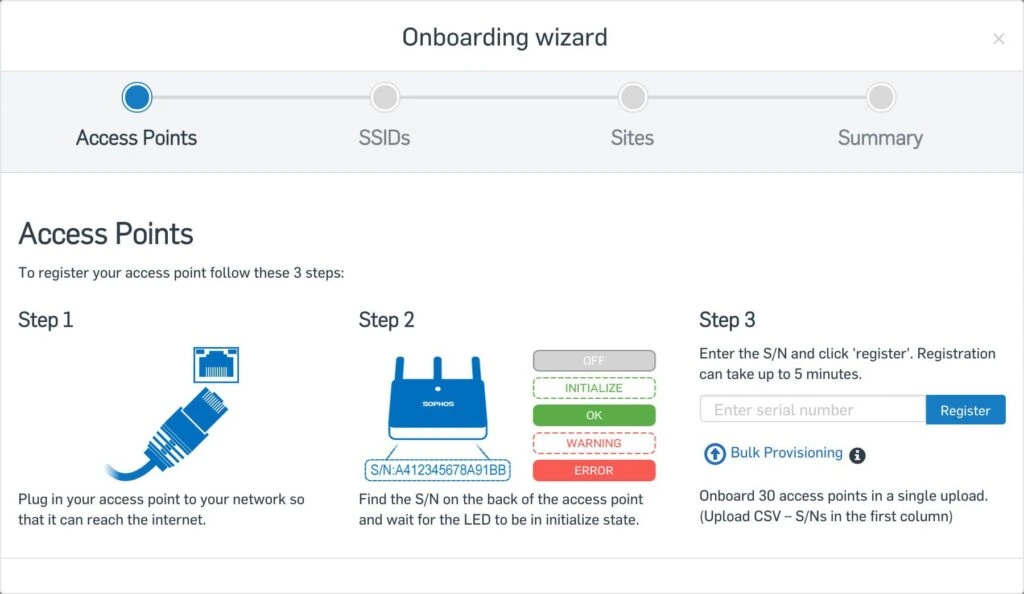 Info: After the registration process, the system also checks whether new firmware is available for the connected access point. If this is the case, the new firmware will also be installed immediately. It is obvious, but do not disconnect the power or network connection of the access point at this time!
Important: In order for the access point to register with Sophos Central, it must first be turned on and connected to the network. In addition, all network requirements must be met, which we will show in more detail in this article.
3. set up SSID
In the second step of the wizard you now create an SSID. The SSID is the name of the network that will be broadcast later. Define a name and a secure password and finally click Save.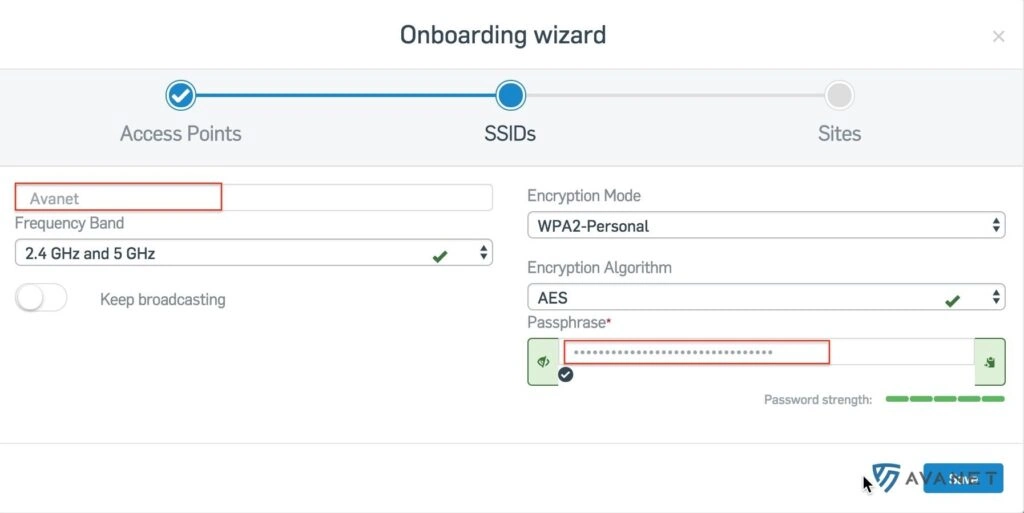 Note: Of course, you can also specify the other options, such as the "Encryption Mode" or the "Encryption Algorithm" yourself. Sophos simply selects the best possible options by default.
4. add site
In the last step of the wizard, you document the location of your access point. Especially if more are added later, you can keep track of them this way.