In this article, we will show you how to migrate your Sophos UTM license to the Sophos Firewall OS (SFOS). On the one hand, this guide shows the variant during the setup wizard and also briefly explains how to perform the migration afterwards via the firewall backend.
Perform license migration in the setup wizard
When you start up your XG Firewall, the setup wizard will first guide you through a basic configuration. At some point you will come to the "Register your Firewall"where you can select and upload the license file of your UTM. The license will then be checked for validity on a Sophos license server. Of course, this requires an Internet connection.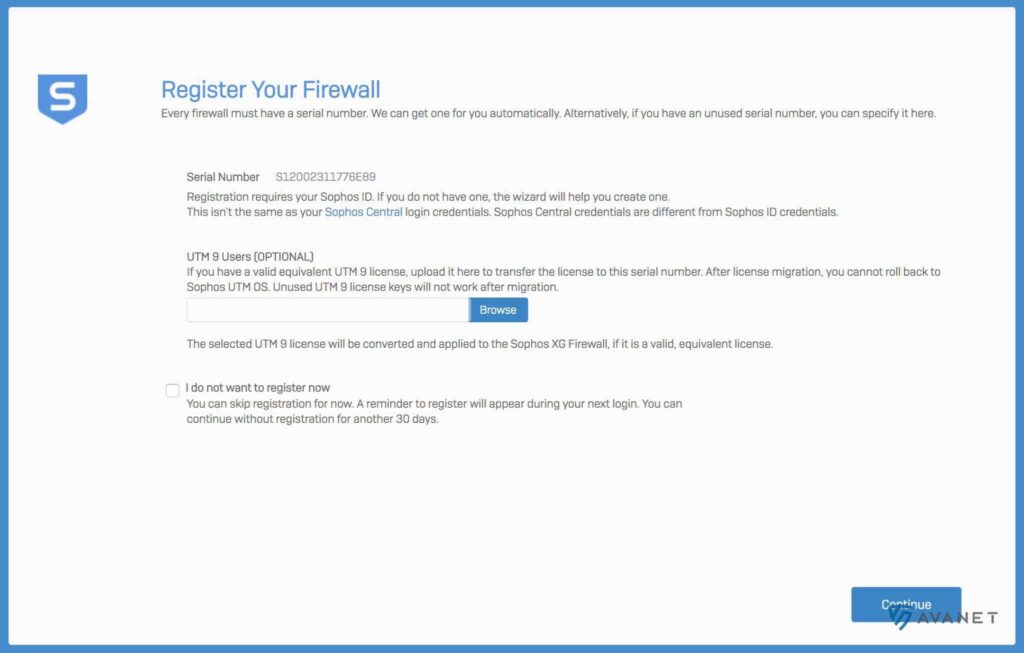 Remark: The process is subsequently self-explanatory and very well documented by Sophos. Therefore, we will not go into more detail about the next steps here.
If your firewall does not have an Internet connection during setup or you do not want to migrate your UTM license during this setup wizard, you can simply click on Continue button. This way you skip this step for now and can perform the migration afterwards in the backend.
License migration via the firewall backend
If you have completed the setup wizard without migrating your license, log in to XG Firewall with your username and password. Then select in the navigation the menu item Administration off.
Info: If you have not yet registered your XG Firewall to a Sophos ID, you will be prompted to perform this step at this point.
At the last place on this page you should now see the area License Upgrade will be displayed. Now simply click on Browse and select your UTM license file. Then click on Migrate UTM 9 License.

Virtual appliance
For a virtual firewall, the process is the same as for the Sophos hardware, but here the Base Licence be purchased once.
Info: The Base License is only included free of charge with Sophos hardware. Learn more about the Base License here: Sophos Firewall OS (SFOS) Base License.