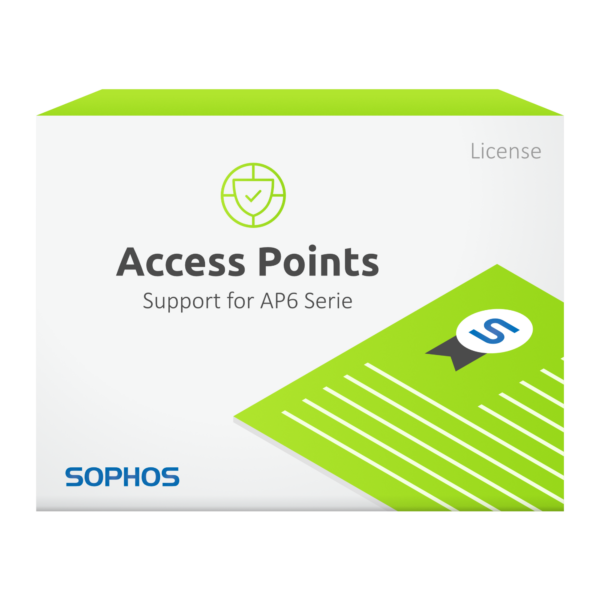 Sophos Access Points Support for AP6 420X
97,75 € - 293,25 €
Sophos Central Management:

Sophos Central Management gives you centralized control and management of all your Sophos Access Points, for efficiency and clarity.

Limited Lifetime Warranty:

The AP6 Access Points are backed by a limited lifetime warranty from Sophos. This speaks for the quality and reliability of the product.

24/7 support and service:

Benefit from a comprehensive support and service package that includes not only 24/7 phone support, but also firmware updates and Advance RMA replacement.
Why is there a Support and Service Subscription?
Sophos has simplified the support approach for its network solutions to provide end-to-end phone help, firmware updates, advanced RMA and a limited lifetime warranty for the AP6 device. This approach is similar to that of Sophos Switch. The previously used licensing system for central management is now no longer in use. While the central management system for APs and APXs will continue to be free of charge, support and services will become more central to the future direction of the company.
When does the support license term start?
Just as with Sophos Switch, support starts immediately after order processing. If you plan to keep some Access Points as a reserve, it would be advisable to activate support only once these Access Points are put into operation.
What exactly does lifetime warranty mean?
For all models of the AP6 series, Sophos provides a limited warranty for the entire product life, which stands for continued quality and reliability of the products. Limited by the fact that negligence is not covered by the warranty or by force majeure, and that the warranty also ceases to apply when the product has reached the end of its service life.