Protect mobile devices with Sophos
Management of iOS, Android and Windows Mobile devices
Mobile devices have been part of an enterprise infrastructure for quite some time. Unfortunately, until now it has not been so easy to manage these devices in a company network, to protect them, to assign rights or even to revoke them. With Sophos Central Mobile, formerly known as "Mobile Control", this is now a thing of the past as you get a secure and comprehensive Enterprise Mobility Management (EMM) with a wide range of features at your fingertips. You can centrally manage iOS (8+), Android (4.2+) and Windows 10 devices and, for example, decide for yourself which apps may or may not be installed.
Sophos Central Mobile makes mobile device management a breeze. At last, the balancing act between private and business is also succeeding, making BYOD (bring your own device) a viable option.
Try Sophos Central for free!
Create a free Sophos Central account now and test all products, including Central Mobile Advanced for 30 days without obligation. If you are convinced of the solution after your test period, you can easily order the licenses from us.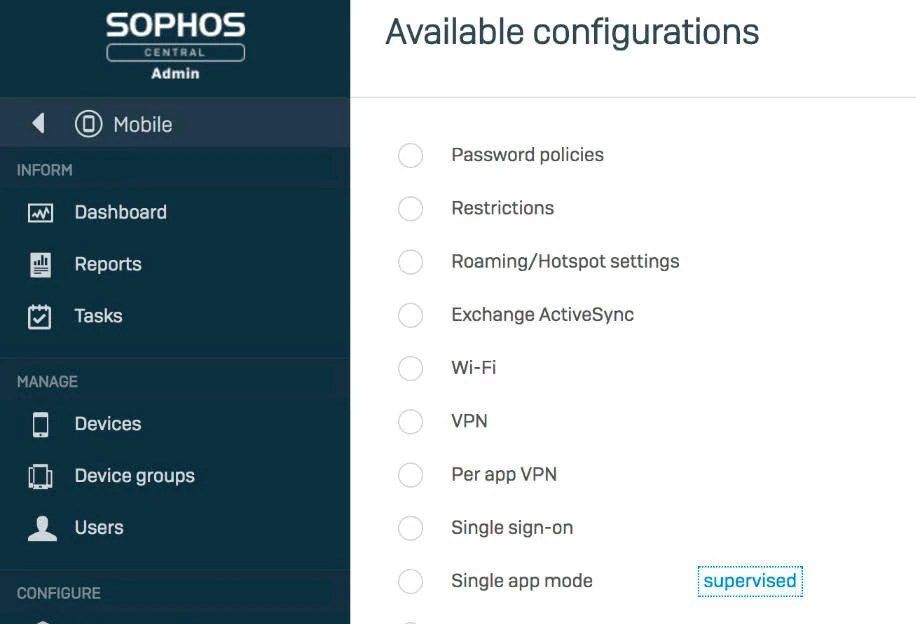 Set device profiles
Manage settings for iOS, Android, and Windows.
In order to integrate a mobile device into the company's daily routine, some settings should usually be made. For example, there are email inboxes, Wi-Fi or VPN passwords, roaming and hotspot policies, a secure password for unlocking the device, and so much more. In addition, you don't have to give the user all the freedom and should restrict various functions. Does he have to be able to install new apps, for example? Can they access the camera and take photos with the device?
Manually configuring all these settings on each device is tedious and takes time. Sophos Central Mobile provides you with many different configuration options for iOS, Android and Windows, which you can save as a profile and roll out to as many devices as you like with one click.
Compliance guidelines
Devices that do not comply with the guidelines are left out.
There are many models of smartphones or tablets that are taken to work every day. From a security perspective, not every device meets the requirements for accessing the company network.
To ensure that only devices that meet your security standards are allowed on the network, Sophos Central Mobile provides you with compliance guidelines. For example, specify the minimum version of the operating system that must be installed, or prohibit devices with a jailbreak. Don't give smartphones or tablets that can be unlocked without a password a chance!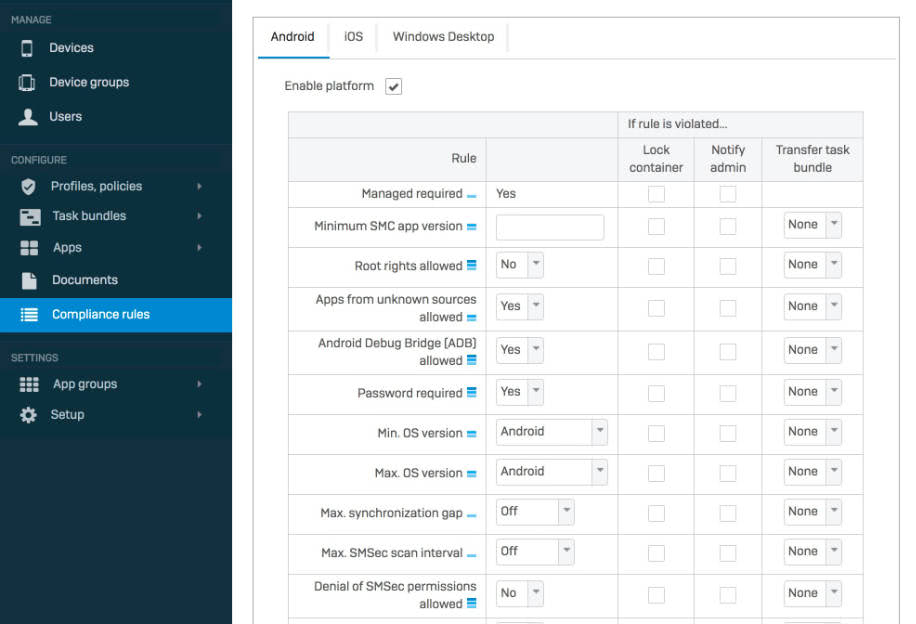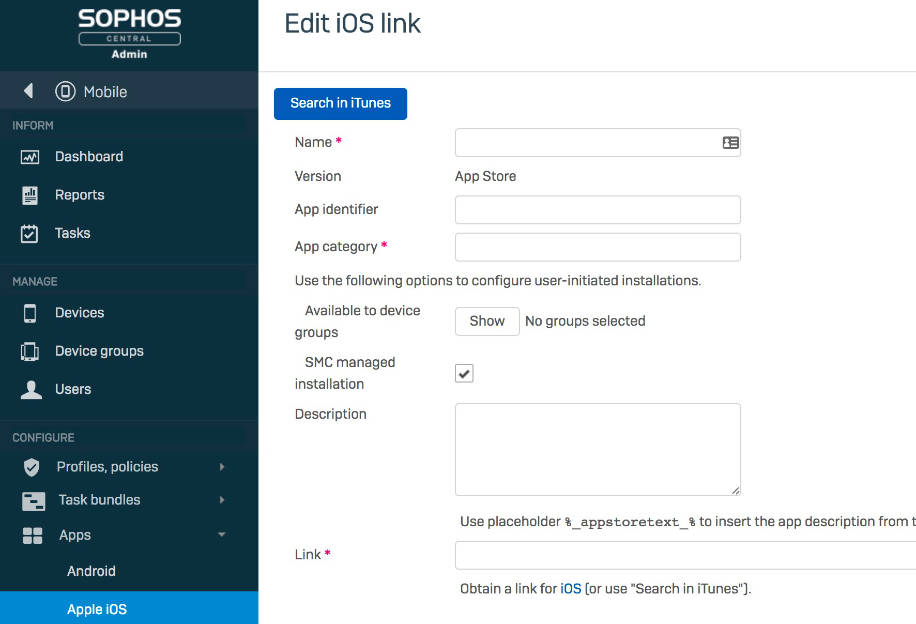 App management
Installing apps on multiple devices has never been easier.
Depending on how often mobile devices are already integrated into everyday company life, there are of course certain apps that should definitely not be missing.
In Sophos Central Mobile, you have the option to select apps from the Apple App Store or the Google Play Store and install them directly on multiple devices. It is also possible to upload your own apps to Sophos Central Mobile and distribute them to connected company devices.
Secure Email
Secure access to email, contacts and calendar.
It is not recommended to synchronize emails, contacts, and the calendar from the company with an employee's private smartphone or tablet. The risk of unauthorized individuals or other apps gaining access to sensitive company data is simply too great. Without the user wanting it, company contacts then suddenly appear on WhatsApp, for example, or an email is accidentally sent via the business address. With Sophos Secure Email, however, there is a solution to separate private from business data.
Sophos Secure Email is an app for iOS and Android and a part of Sophos Mobile Advanced. Sophos Secure Email provides an email client, address book and calendar in one app. By creating a secure Sophos container that runs completely isolated from the rest of the system, these addressed security issues can be solved.
All company data is encapsulated and encrypted within the container.
Secure Workspace
Secure data storage for sensitive company data.
Sophos Central Mobile Advanced lets you securely distribute company documents to mobile devices. This requires the Secure Workspace app for iOS and Android, which provides a file manager and secure web browser. As with Secure Email, a secure Sophos container is created.
You can distribute the documents via Sophos Central Mobile by uploading each document individually. Another option is to use cloud storage, such as Dropbox, Google Drive, or OneDrive. When a file is uploaded from Secure Workspace to such a cloud storage, file encryption is automatically applied. The cloud storage provider therefore has no way of viewing the files. If you are suspicious of such services, you can also use your own WebDAV.
As mentioned, the Secure Workspace app also has an integrated web browser. You can create bookmarks for it via Sophos Central Mobile and distribute them to all devices.
Intercept X for Mobile
Practical toolbox to increase security on mobile devices.
Intercept X for Mobile (formerly Mobile Security) is a security solution for Android and iOS, although the feature set of the two platforms is completely unique for technical reasons. Devices running Android get a malware scanner with Intercept X technology, protection against malicious websites, and a category-based web filter. In addition, "Intercept X for Mobile" spares you from call and SMS spam. With the Privacy Advisor, you can also uncover apps that have permissions they don't actually need.
For both platforms, there is an OTP generator for 2-factor authentication and a security advisor that provides information about the current state of the system.
Intercept X for Mobile is part of Sophos Central Mobile Advanced, but can also be used as a standalone solution under the name "Sophos Central Intercept X for Mobile".
Technical Specifications
Compare the range of functions of the different Mobile products from Sophos to protect your smartphones and tablets. Not sure which protection best suits your business? We can advise you free of charge and with no obligation.
Mobile standard

About the product

Mobile Advanced

About the product

Intercept X for Mobile

About the product

Device Management
✔
✔
-
Application Management
✔
✔
-
Content management
-
✔
-
Sophos Container (Secure Email, Secure Workspace)
-
✔
-
Protection against malware, ransomware, and PUA (potentially unwanted applications)
-
✔
✔
Web protection from harmful online content
-
✔
✔
"MitM (Man-in-the-Middle)" detection
-
✔
✔