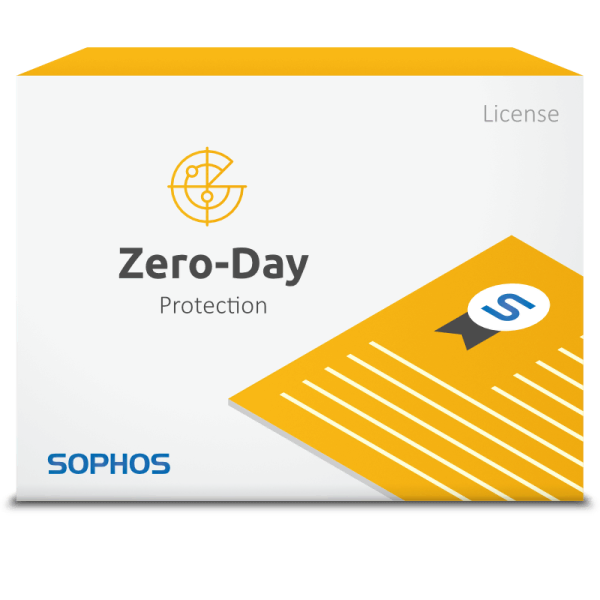 Sophos XGS 5500 Zero-Day Protection
4.231,92 € - 16.588,98 €
Description
Learn more about the
Sophos Zero-Day Protection
The world of cyber threats is becoming increasingly complex. Old-fashioned anti-malware solutions simply aren't enough anymore. Sophos Zero-Day Protection is a powerful solution specifically designed to protect against advanced and constantly evolving threats. With powerful technologies such as real-time JavaScript emulation and behavioral analysis, Sophos leads the security industry in the fight against advanced malware. This comprehensive protection is complemented by the Sophos Web Protection, providing an additional line of defense against advanced persistent threats (APTs) and zero-day malware.
Thanks to effective technologies such as real-time JavaScript emulation and behavioral analysis, Sophos leads the security industry in the fight against advanced malware. While traditional anti-malware protection is certainly still important as a first line of defense, organizations increasingly need additional tools to stand up to today's attacks. This is where Sophos Zero-Day comes in.
Sophos Zero-Day complements Sophos's existing security products and provides additional protection against advanced persistent threats (APT) and zero-day malware. It detects and blocks threats that are intentionally designed to sneak past existing security controls (evasive threats). Thanks to its powerful cloud-based next-generation sandbox technology, Sophos's Zero-Day provides an easy way to protect against this advanced malware in the future.
Key feature
Advanced protection against targeted attacks
Keep unknown, data-stealing malware off your network. Zero-Day Protection has powerful cloud-based sandboxing technology that helps you respond to APTs and zero-day threats quickly and effectively.
With Sophos Zero-Day Protection, you get protection that goes far beyond the traditional. It provides proactive defense against targeted attacks by detecting and blocking malicious behavior before it can cause damage. This powerful solution uses advanced technologies such as artificial intelligence and machine learning to identify and neutralize unknown and evolving threats.
Key feature
Ready for use in a few minutes
Setting up Sophos Zero-Day Protection is a simple and quick process. After purchasing the license, the system can be integrated into your existing IT infrastructure with just a few clicks. In addition, Sophos offers extensive online resources and dedicated support to make the process even smoother.
Sophos Zero-Day Protection is fully integrated with your Sophos Security solution. Simply purchase a license, activate Sophos Zero-Day, and customize the rules accordingly. From now on, you are protected against targeted attacks.
Key feature
Block threats (evasive threats) that others don't see
Sophos Zero-Day Protection goes beyond standard signatures and heuristics to detect threats. It uses advanced behavioral analytics and machine learning to detect even threats designed to circumvent traditional security assumptions. This effectively fends off even the most sophisticated and elaborate attacks that other solutions may miss.
Detect threats specifically designed to evade sandbox devices. Sophos's full-system emulation approach provides deep insight into the behavior of unknown malware and prevents malicious attacks that other vendors simply miss.
Key feature
Comprehensive analysis
Detect the behavior of a potential threat on all your endpoints across your infrastructure. These include operating systems (Windows, Mac OS X and Android), physical and virtual
Devices, services, users, network infrastructure, and web, email, files, and mobile apps. Let threats explode in the zero-day cloud first and protect your data centers from dangerous malware.
Key feature
Ultra fast performance
Sophos Zero-Day Protection relies on the high computing power of multiple globally distributed data centers, including locations in the US, Europe and Asia (of course, Europe only can be selected), to provide fast and effective threat defense. This global presence ensures continuous availability and fast response times, even with high data volumes. A typical malware scan can be completed within minutes, depending on the file size, ensuring business continuity and minimizing downtime.
Your Sophos security solution first carefully filters traffic so that only suspicious files are transmitted to zero-day. This results in minimal latency and the impact on end users is also low.
Avanet Services
Let us improve your safety
Our services are designed to help you keep your Sophos products running securely and reliably. In addition to the classic support for Sophos Firewalls or the Central platform, we offer the following services, which can be requested from us at any time:
Setup Services
Health Check
Upgrades
Workshops
Migrations
Firewall maintenance
SLA
Security audits
Request more information
Setup Services
Want to have your Sophos products set up by professionals? We support you during commissioning and configuration for smooth operation.
Migrations
You would like to change from your SG Firewall (UTM) to a XGS Firewall with the SFOS operating system? Thanks to our experience, we can also manage your changeover without any worries.
Health Check
You have set up your Sophos products yourself and would like us to check the configuration? We will check your settings and give our recommendation.
Workshops
Is it your job to be knowledgeable about Sophos products in your organization? We offer targeted training that is completely tailored to your needs.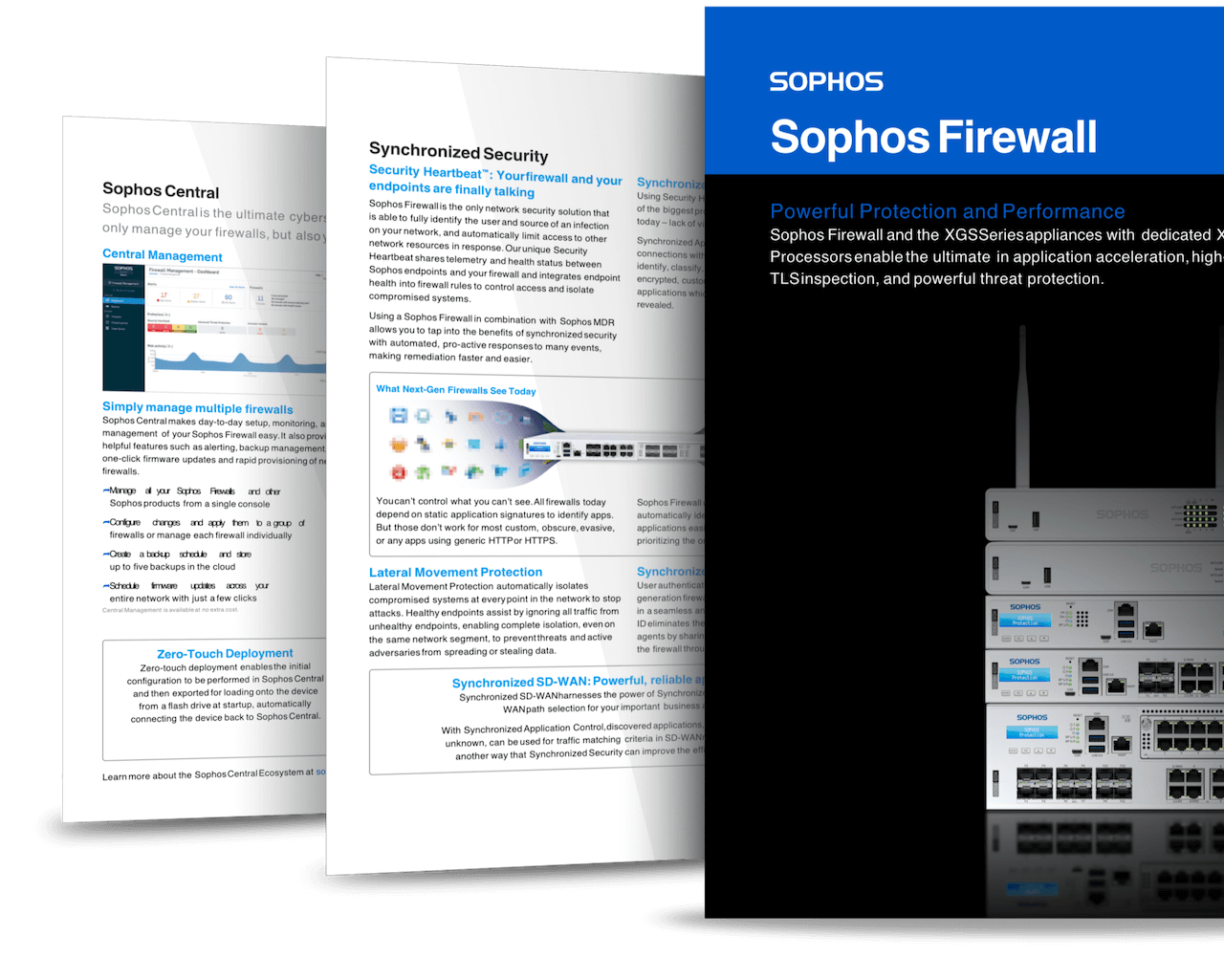 EDUCATION & GOVERNMENT
Special awards for educational and government institutions
Sophos offers special discounts for schools and government institutions to meet specific budget requirements. A discount of at least 20 % can be expected.*
Ask us and we will prepare an offer for you completely free of charge and without obligation.
* Special pricing for educational and government institutions is only available in the DACH region.
Request special prices
Trial version
Try Sophos Firewall free
Familiarize yourself with the Sophos Firewall user interface before purchasing. See for yourself how intuitive this advanced operating system is and learn about all the features of Sophos Firewall.
Use the online demo for instant access directly in the browser, without installation. Or download the Sophos Firewall software for free (ISO) and install it on your own hardware.
Use the following credentials to start your online demo. Username: demo / Password: XG@demOuser
Help with purchase
Are there any questions about the product?
It is better to ask again before buying, before you end up holding the wrong product in your hands.
Ask question