Stop spam and unwanted emails
Comprehensive protection for Microsoft Exchange, Office 365, Google Apps and many other email providers.
With Sophos Secure Email Gateway, you get an extra layer of protection between an email and your mailbox. So before you open an email in the future, it has already been scanned by Sophos for suspicious content, attachments or URLs. Of course, the latest anti-malware and phishing detection technologies are used, which are always kept up to date to detect the latest threats.
You can use Sophos Email Gateway with your own mail server or Microsoft Exchange, Office 365, Google Apps and many other email providers.
Try Sophos Central for free!
Create a free Sophos Central account now and try all products, including Central Intercept X Advanced with XDR without obligation for 30 days. If you are convinced of the solution after your test period, you can easily order the licenses from us.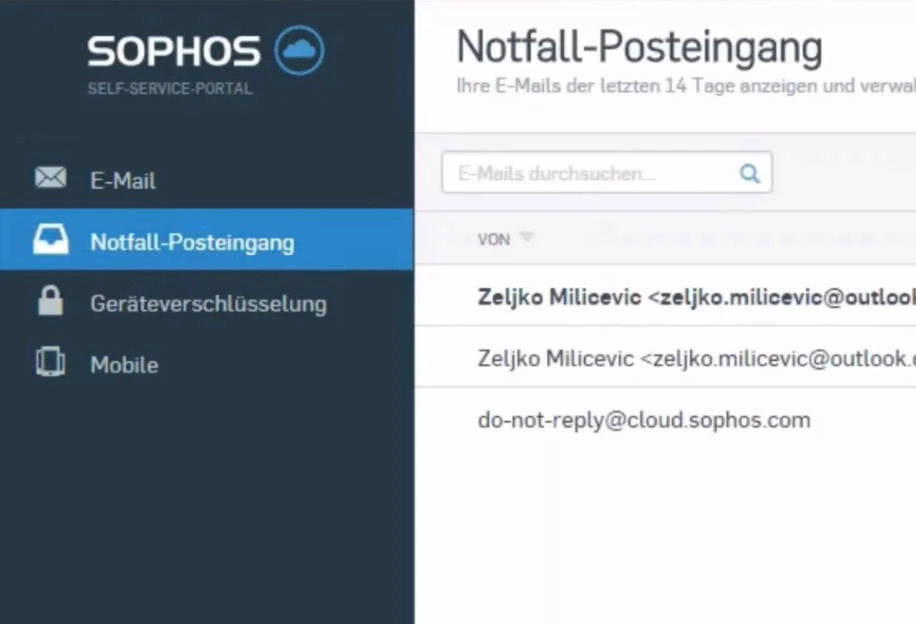 Emergency inbox
After Sophos Central Email Gateway has checked a message, it forwards it to the mail server. But now it can happen that the mail server, for whatever reason, is not available. For this case, Sophos Central Email Gateway has a so-called emergency inbox. All undeliverable e-mails are temporarily stored there for 14 days and can also be viewed at any time. As soon as the server is available again, these mails will be delivered accordingly.
Deception protection
You need to know that it is very easy to define the sender address of an email completely freely. So I could theoretically take an email address from your address book and send you a message with this sender.
Especially in phishing attacks, this technique is often exploited to fool you into thinking that your bank or some other trusted contact has sent an important message. Of course, having a sender you know increases the chances that you will open the email and follow the instructions.
Sophos Central Email Gateway can detect such deceptions and alert you to them.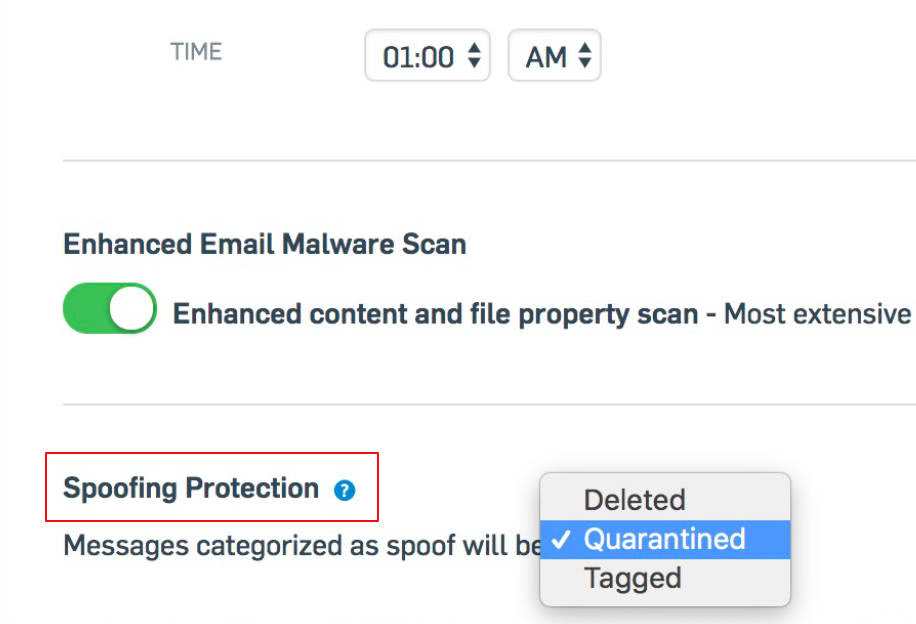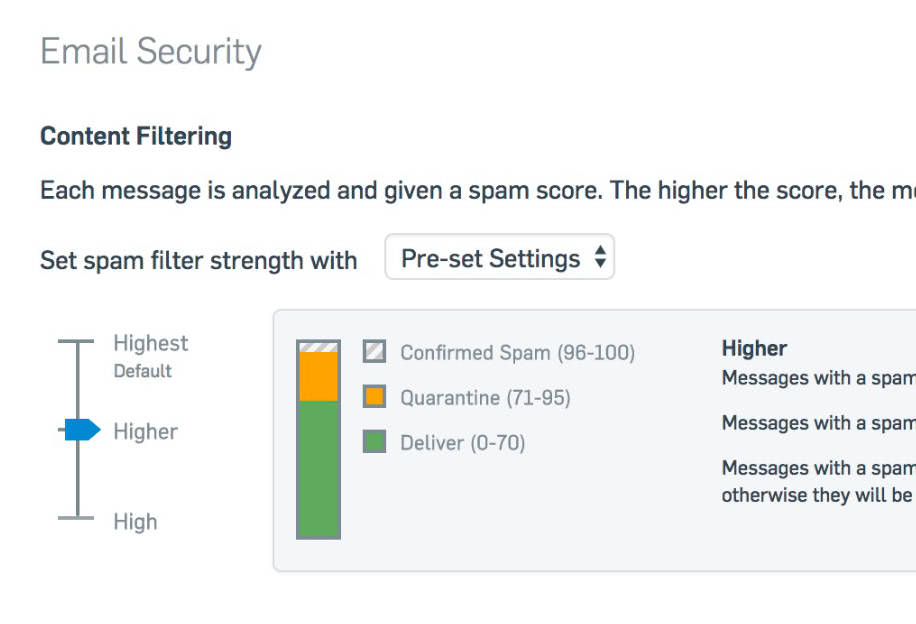 Content filtering
Sophos Central Email Gateway has powerful spam protection. Each message is analyzed and assigned a spam value. You can set the strength of the spam filter yourself via the preferences using three levels. You also determine what should happen to emails that have been categorized as spam. You can then either have them delivered anyway, move them to quarantine or delete them immediately.
E-mail quarantine
By default, blocked emails are moved to the quarantine. They then remain there for 30 days before being deleted. With Sophos Central Email Gateway, you can send regular quarantine reports to your employees. All messages that were blocked and not delivered will then be listed there. A quick check is therefore all it takes to detect emails that have been mistakenly marked as spam.
Of course, any user can also view their quarantine, find out the reason for blocking or have the email forwarded to their mailbox.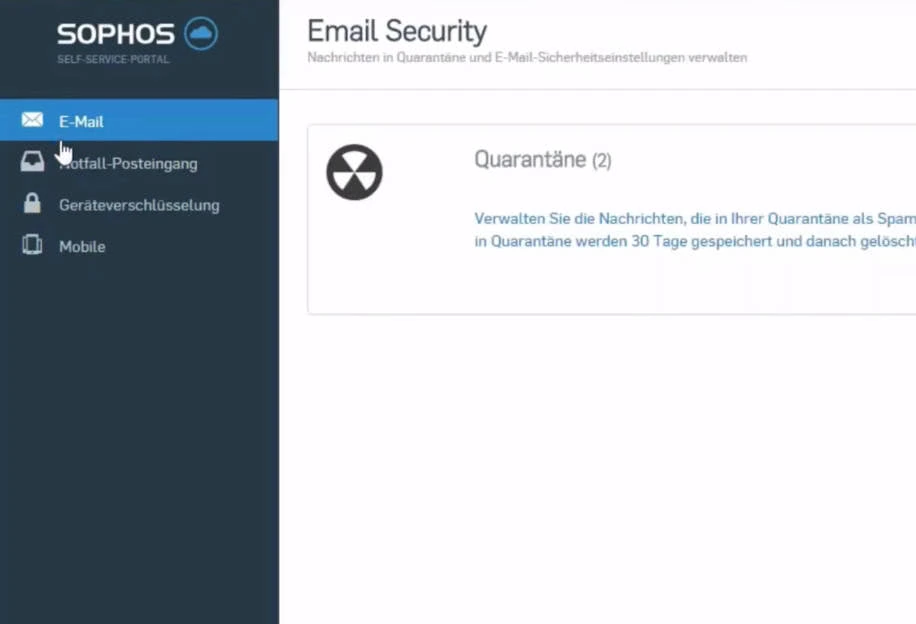 Compare the feature set of different Sophos email products to protect your communications. Not sure which variant suits your company best? We can advise you free of charge and without any obligation.
Email Standard

About the product

Recommended

Email Advanced

About the product

Scans incoming messages
✔
✔
Scans outgoing messages
✔
✔
Domain, group, and user-level policies
✔
✔
Quarantine options for administrators and users
✔
✔
"Allow"/"Block" lists for admins
✔
✔
AD or Azure AD synchronization
✔
✔
24/7 emergency inbox
✔
✔
Email processing locations (UK, Germany, USA)
✔
✔
Antispam filter
✔
✔
Delay queue
✔
✔
Inbound SPF, DKIM and DMARC
✔
✔
Analysis of displayed names and mimicked domains
✔
✔
Antivirus filter
✔
✔
Time-of-Click URL Protection
-
✔
Sophos Zero-Day Protection (Sandstrom)
-
✔
Push-based email encryption
✔
✔
Enforced TLS encryption
✔
✔
Data Loss Prevention
✔
✔
Content control policies (keywords and file types) file types)
✔
✔
Reporting dashboard and detailed reports
✔
✔
Role-based access via Sophos Central
✔
✔