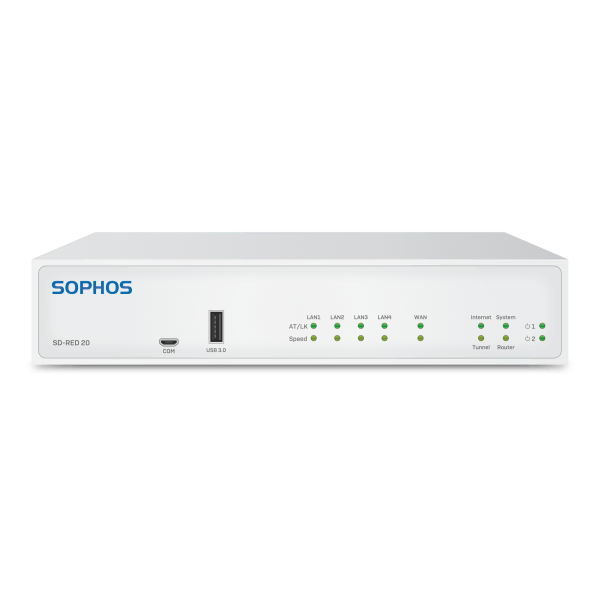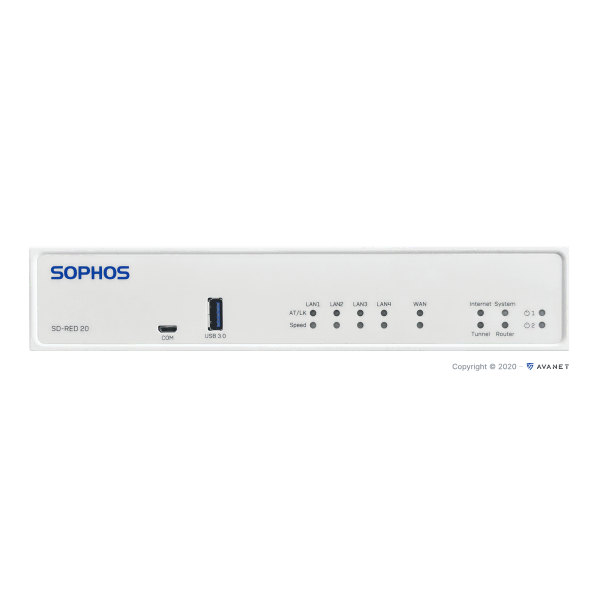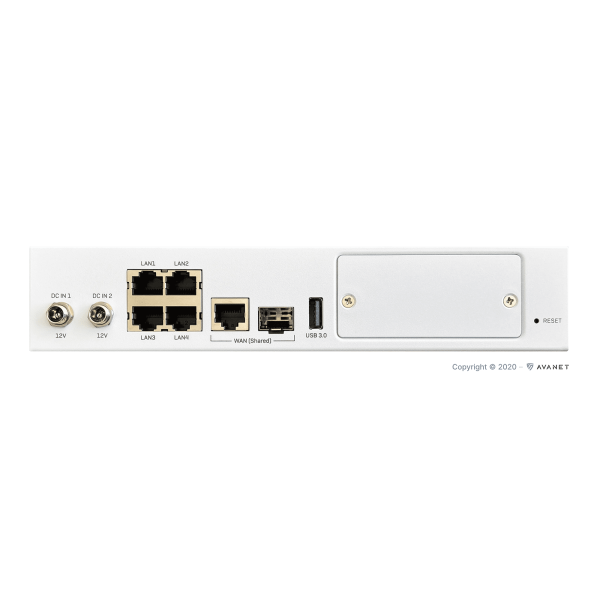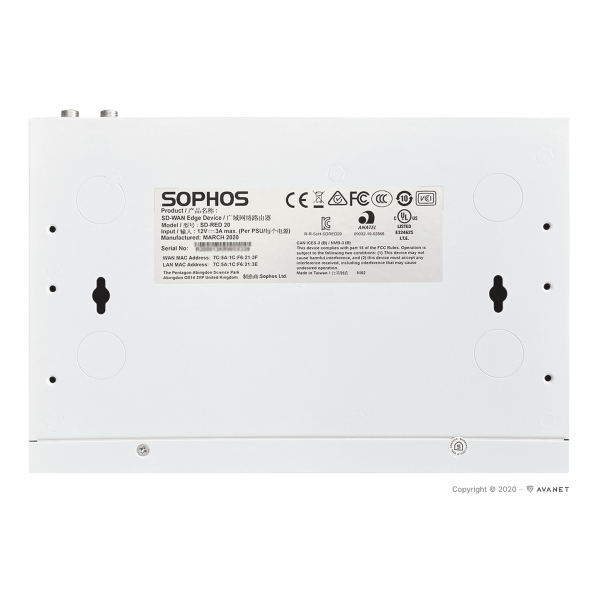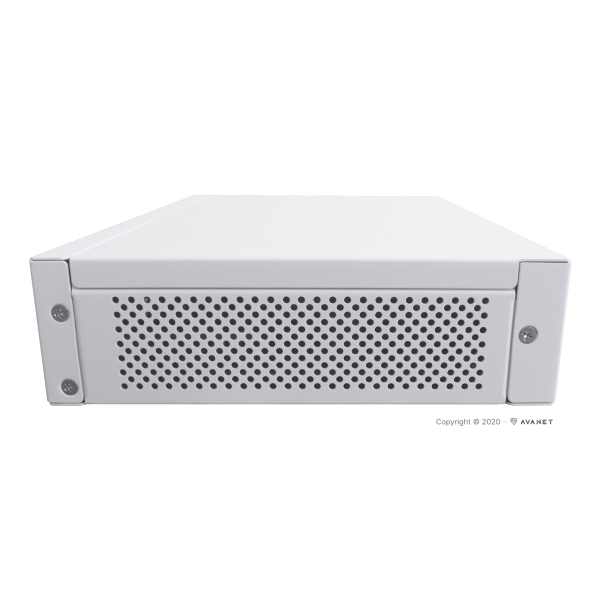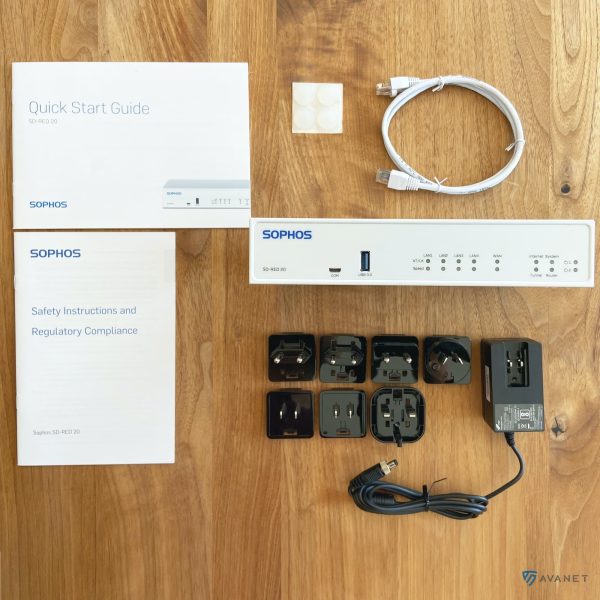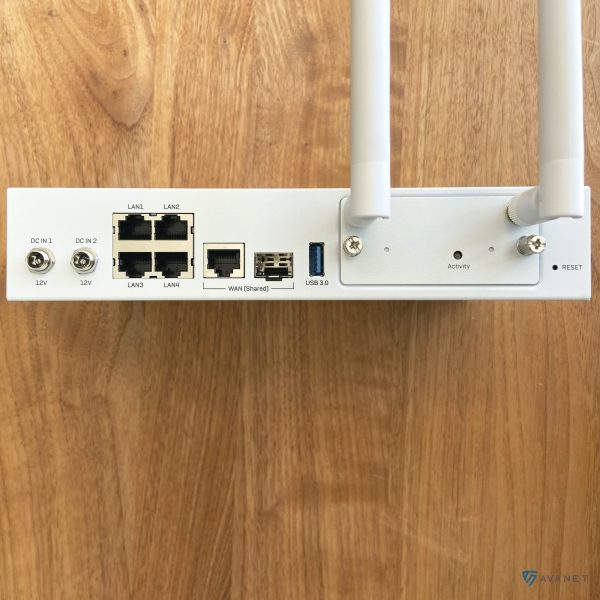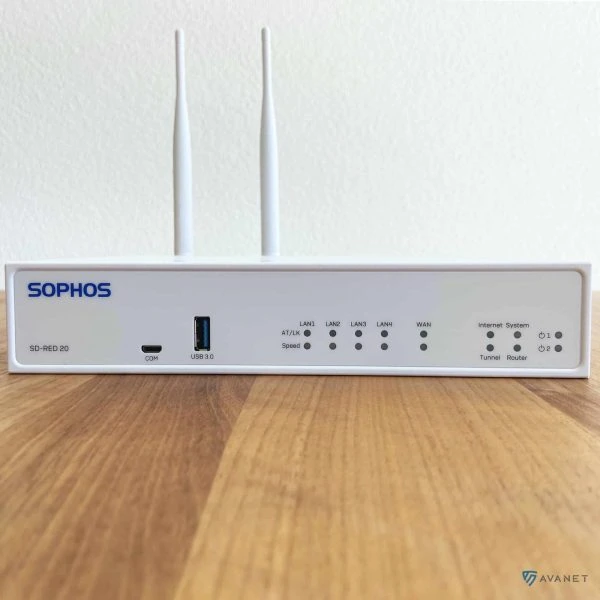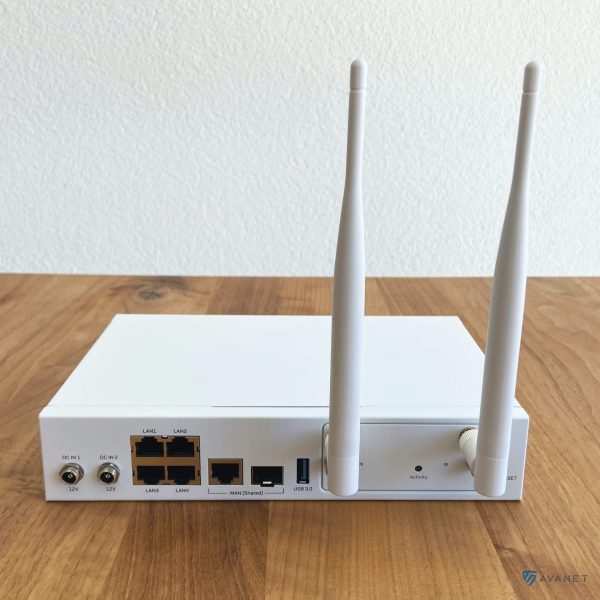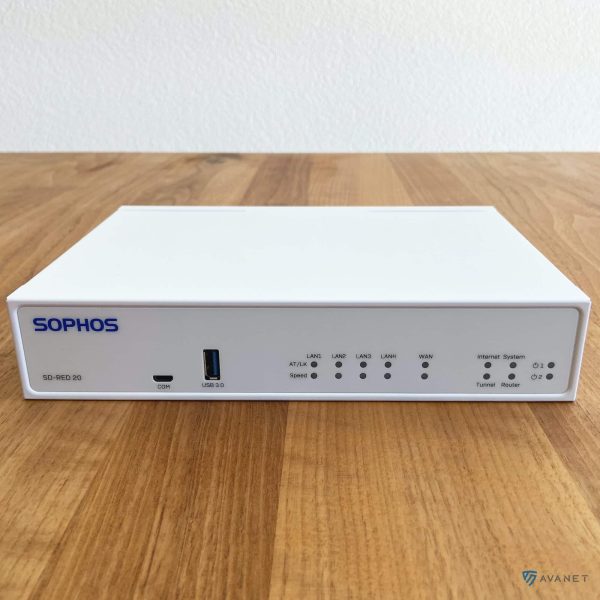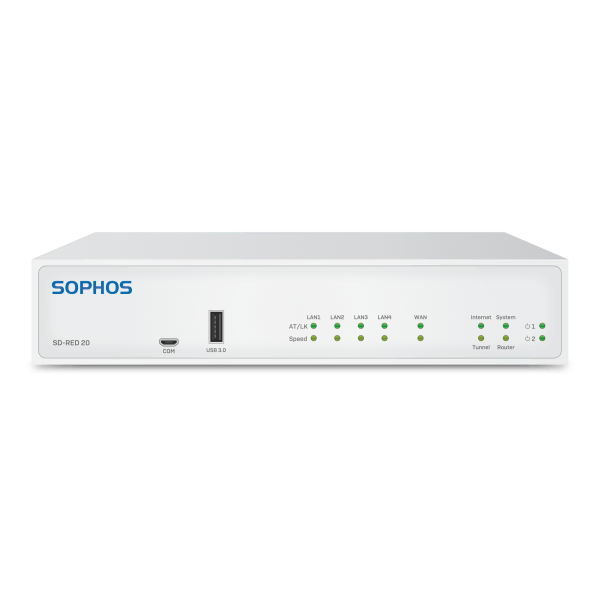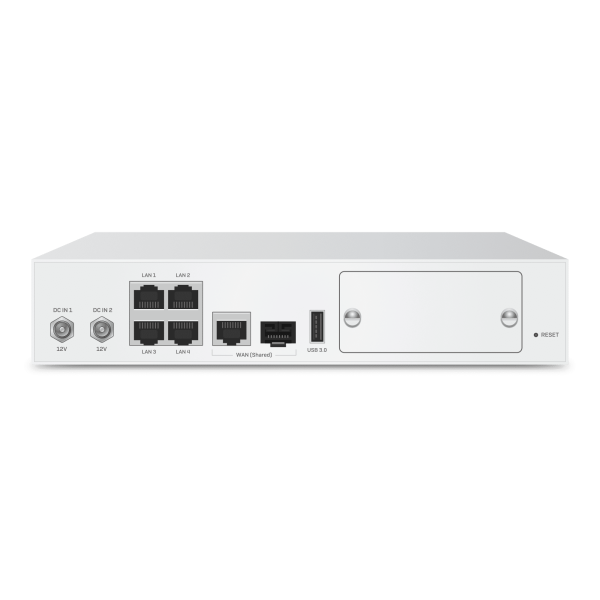 Sophos SD-RED 20 Appliance
400,40 €
Free shipping to the European Economic Area (EEA), Switzerland and Liechtenstein for all orders over 200 CHF.
Make any location a safe location.
Do you have remote offices with multiple employees that you would like to easily integrate into your corporate network? If your existing infrastructure is already protected by a Sophos Firewall, the RED is an absolutely elegant, simple and affordable solution to connect external branch offices.
The SD-RED 20 appliance comes with a 5-year warranty from Sophos. A multi-regional power supply unit is included in the scope of delivery.
In order to run the RED with a Sophos Firewall, you need a Network Protection license.
Operating SD-RED 20 with WiFi module
The SD-RED 20 can be equipped with two WiFi antennas to enable wireless VPN connections. All you need to do is purchase the Sophos 802.11ac 2x2 WiFi module, which, by the way, is also compatible with the SD-RED 60 and SG/XG 135w rev.3.
In the following video we will show you how to mount the WiFi expansion module to your SD-RED 20.
Technical Specifications
Compare the specifications of the Sophos SD-RED 20 and SD-RED 60 in the table below. Not sure which SD-WAN device is right for you? We can advise you free of charge and without obligation.
Sophos SD-RED 20

About the product

Sophos SD-RED 60

About the product

Sophos Firewall
✔ (17.5 MR 11, 18.0 MR 1)
✔ (17.5 MR 11, 18.0 MR 1)
Sophos UTM
✔ (as of v9.7 MR 3)
✔ (as of v9.7 MR 3)
Maximum throughput
250 MBit/s
850 MBit/s
LAN interface
4 x 10/100/1000 Base-TX (1 GbE copper)
4 x 10/100/1000 Base-TX (1 GbE copper)
WAN interfaces
1 x 10/100/1000 Base-TX (shared with SFP)
2 x 10/100/1000 Base-TX (WAN1 shared with SFP)
SFP interface
1x SFP Fiber (shared with WAN)
1x SFP Fiber (shared with WAN1)
USB interfaces
2 x USB 3.0 (front and rear)
2 x USB 3.0 (front and rear)
Power supply
110-240 VAC, 50-60 Hz, 12V +/- 10%, 3.7A, 40W
110-240 VAC, 50-60 Hz, 12V +/- 10%, 6.95A, 75W
Dimensions width x depth x height
225 x 44 x 150 mm
225 x 44 x 150 mm
Weight
900 g
1 kg
Power consumption
40 W (max.)
75 W (max.)
Operating temperature
0-40°C (operation), -20-70°C (storage)
0-40°C (operation), -20-70°C (storage)
Humidity
10-90 % (operating), non-condensing
10-90 % (operating), non-condensing
Certifications
CE, FCC, IC, RCM, VCCI, CB, UL, CCC, KC, ANATEL
CE, FCC, IC, RCM, VCCI, CB, UL, CCC, KC, ANATEL