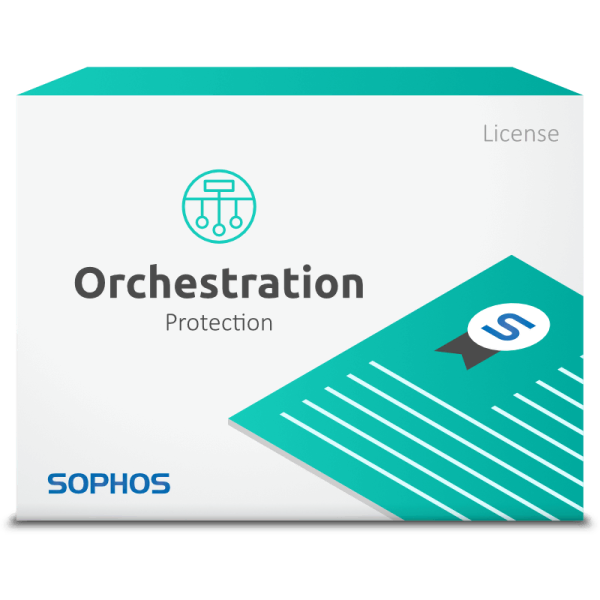 Sophos SW/Virtual Central Orchestration Protection – 16 CORES & 24GB RAM
4.603,59 € - 13.810,76 €
Description
Learn more about the
Sophos Central Orchestration
Sophos Central Orchestration is a specially designed license that enables additional advanced features. It allows multiple Sophos Firewalls to be connected via VPN through Sophos Central with just a few clicks. In addition to the pure VPN connection functionality, this license includes a light version of the Sophos Central Firewall Reporting Advanced license to enable advanced reporting. Furthermore, the license is required to enable the MDR and XDR connector in Sophos Firewall. This licensing model ensures that you get access to the most advanced features and services to optimize your network security.
Key feature
SD-WAN
As a security administrator, you know the challenges of manually creating VPN connections between multiple firewalls. Sophos Central Orchestration is a powerful solution that greatly simplifies this task. It allows you to create VPN connections in seconds and with just a few clicks, and manage complex network structures.
With Sophos Central Orchestration, you can quickly and efficiently create complex network structures such as full-mesh networks, hub-and-spoke models, and tunnel setups. In addition to VPN connections, Sophos Central Orchestration provides a variety of SD-WAN features that improve network performance and increase network resilience. Not only will you save time and effort, but you'll also benefit from improved network performance and security.
Various network models that can be created using Sophos Central Orchestration:
Full mesh networks: This network design is characterized by each device being directly connected to every other device. With four firewalls, you would need six separate VPN connections, which is calculated by the formula n(n-1)/2, where n is the number of firewalls. With six firewalls, there would be 15 connections, and with ten, there would be as many as 45. This model provides maximum redundancy and performance, as data can be sent directly from any device to any other without being routed through an intermediate device.
Hub-and-spoke models: In this model, all devices are connected to a central device, the "hub". This acts as an intermediary for communication between the individual "spokes" (the devices). With four firewalls, each firewall would be connected only to the hub, requiring a total of three VPN connections. With six firewalls, there would be five connections, and with ten firewalls, there would be nine. This model is easier to manage and requires fewer connections than a full mesh network, but may provide less redundancy and performance because all data must be routed through the hub.
Tunnel setups: In a tunnel setup, private network data and communications are sent securely over public networks such as the Internet. Data is encrypted before sending and decrypted upon receipt to ensure security and privacy. VPN connections are a common example of tunneling. With Sophos Central Orchestration, you can set up VPN tunnels between your firewalls easily and efficiently.
Overall, Sophos Central Orchestration enables faster, easier and more efficient management of VPN connections between multiple firewalls. This makes your job as an admin much easier while improving the performance and resilience of your network. With Sophos Central Orchestration, you can implement all these network designs and more quickly and easily, minimizing complex configuration tasks.
Key feature
Central Firewall Reporting Advanced (Light) – logs for 30 days
The Central Orchestration license provides a light version of Sophos Central Firewall Reporting Advanced, a powerful cloud-based reporting tool. With 30 days of firewall data storage in Sophos Central, it provides comprehensive insight into your network security.
The variety of predefined reports on threats, compliance and user activity provides valuable insights. In addition, advanced options allow you to create and customize reports and views according to your specific needs. Whether you want to save, schedule or export the reports, Sophos Central Firewall Reporting Advanced provides the flexibility you need.
With the ability to expand the storage for additional history reports, Sophos Central Firewall Reporting Advanced ensures that you always have access to the information you need, regardless of the time period.
Key feature
Central MDR and XDR Connector
Additionally, Central Orchestration includes the Sophos XDR and MDR connector. This enables firewall data sharing for cross-product extended detection and response and our 24/7 managed threat response service
Sophos MDR is an optional, fully managed service that provides around-the-clock threat hunting, detection and response by the Sophos team of experts.
Sophos XDR provides advanced detection and response capabilities that are the responsibility of your own team.
Whether you hire Sophos to handle threat hunting and detection and response, or you handle these tasks yourself, your Sophos Firewall is configured to securely transmit all relevant threat data and information to the cloud.
Avanet Services
Let us improve your safety
Our services are designed to help you keep your Sophos products running securely and reliably. In addition to the classic support for Sophos Firewalls or the Central platform, we offer the following services, which can be requested from us at any time:
Setup Services
Health Check
Upgrades
Workshops
Migrations
Firewall maintenance
SLA
Security audits
Request more information
Setup Services
Want to have your Sophos products set up by professionals? We support you during commissioning and configuration for smooth operation.
Migrations
You would like to change from your SG Firewall (UTM) to a XGS Firewall with the SFOS operating system? Thanks to our experience, we can also manage your changeover without any worries.
Health Check
You have set up your Sophos products yourself and would like us to check the configuration? We will check your settings and give our recommendation.
Workshops
Is it your job to be knowledgeable about Sophos products in your organization? We offer targeted training that is completely tailored to your needs.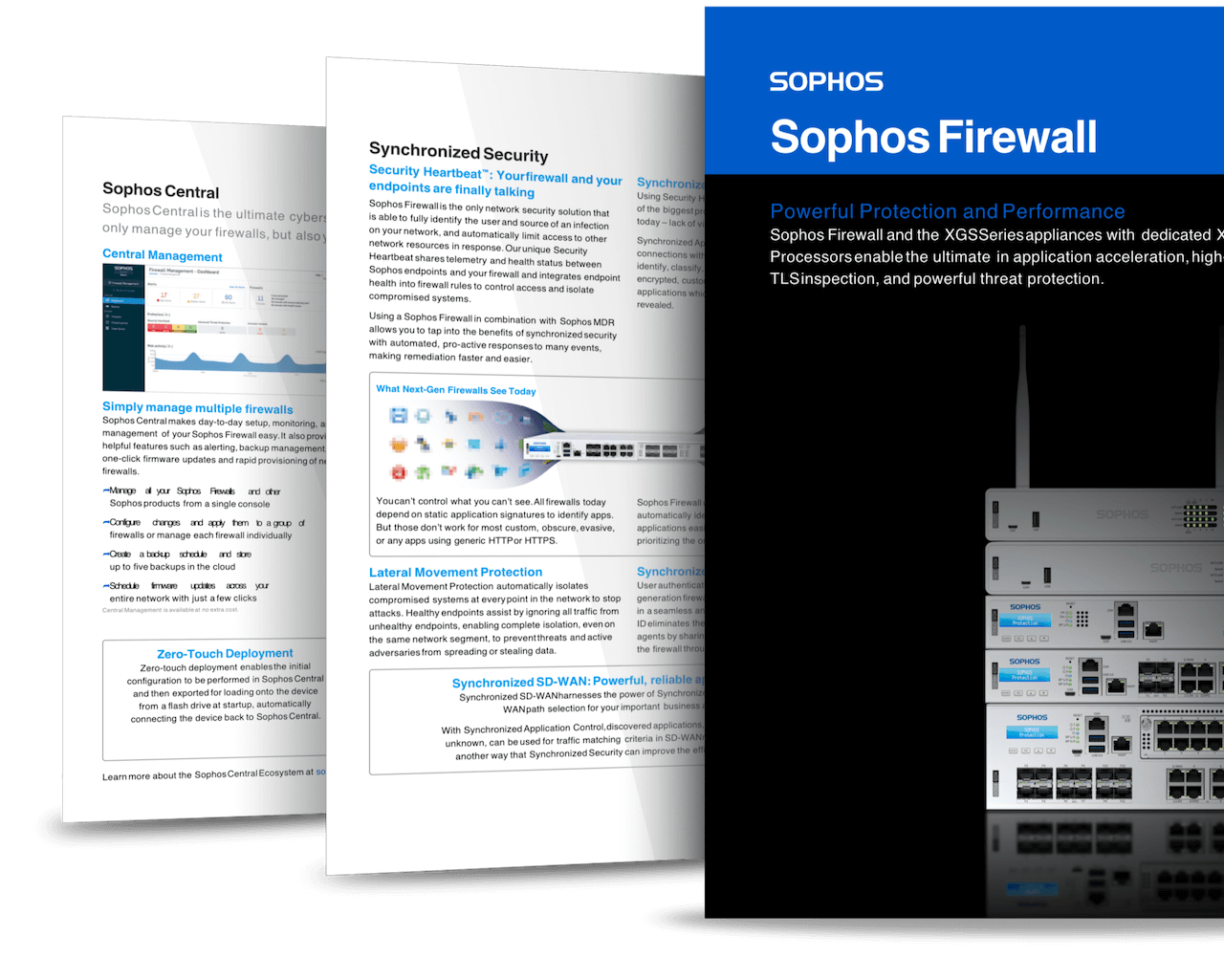 EDUCATION & GOVERNMENT
Special awards for educational and government institutions
Sophos offers special discounts for schools and government institutions to meet specific budget requirements. A discount of at least 20 % can be expected.*
Ask us and we will prepare an offer for you completely free of charge and without obligation.
* Special pricing for educational and government institutions is only available in the DACH region.
Request special prices
Trial version
Try Sophos Firewall free
Familiarize yourself with the Sophos Firewall user interface before purchasing. See for yourself how intuitive this advanced operating system is and learn about all the features of Sophos Firewall.
Use the online demo for instant access directly in the browser, without installation. Or download the Sophos Firewall software for free (ISO) and install it on your own hardware.
Use the following credentials to start your online demo. Username: demo / Password: XG@demOuser
Help with purchase
Are there any questions about the product?
It is better to ask again before buying, before you end up holding the wrong product in your hands.
Ask question