Web Protection - for safe and productive web surfing
The Sophos Web Protection license provides comprehensive protection for businesses to protect their networks and users from web-based threats. Integration with other Sophos products and easy-to-use management make this solution an ideal choice for greater protection and control. To give you, as an IT administrator or security engineer, a better insight into this powerful solution, this page explains in more detail the key features and benefits of Sophos Web Protection License.
---
Protection against web threats: Malware, PUA, malicious JavaScript, pharming
The Web Protection from Sophos offers a wide range of features to protect businesses from a variety of threats:
Malware scanning: Sophos Web Protection blocks all forms of viruses, web malware, Trojans and spyware on HTTP/S, FTP and in web-based emails.
Advanced web malware protection with JavaScript emulation: The solution provides an additional layer of protection by emulating JavaScript to detect and block malicious scripts.
Malware dual-scanning: Sophos Web Protection uses a second, independent malware detection engine from Avira to ensure even better threat detection.
Real-time or batch mode scanning: The solution can scan in real-time or batch mode to provide maximum flexibility and performance.
Pharming protection: Sophos Web Protection is protection against pharming attacks, where users are redirected to fake websites.
Potentially Unwanted Applications ( PUAs) are blocked: The solution identifies and blocks PUAs that are not necessarily malicious, but can still perform unwanted activities.
Web Control - Allow or Block Web Traffic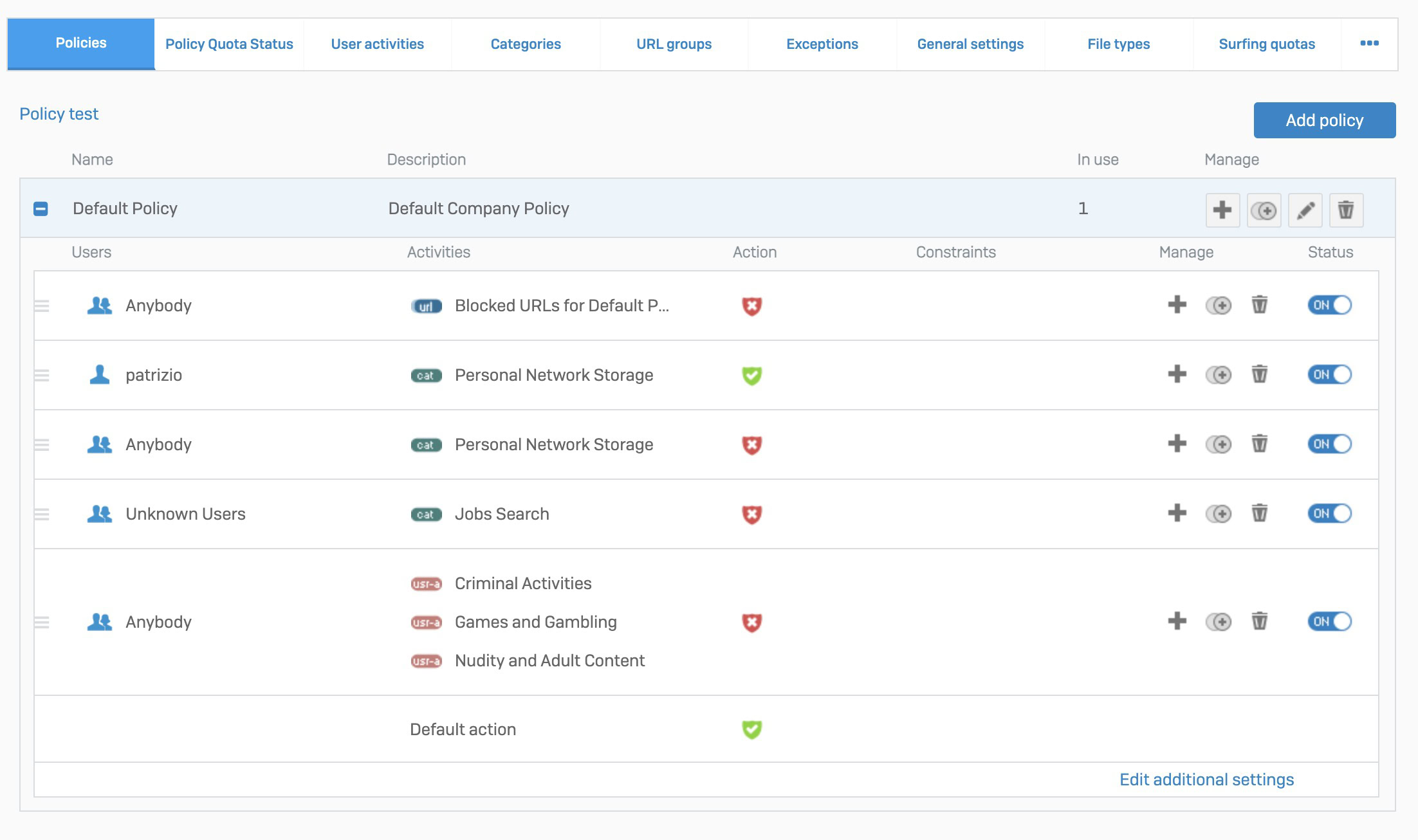 With Web Control and an integrated web filter and proxy, Sophos Web Protection provides granular control over users' web access. The solution allows filtering web content by user, group, category, URL and keyword. The URL filter database with millions of websites in 92 categories is supported by SophosLabs. Organizations can create policies with browsing time limits by user/group and set up file type filters by MIME type, extension, and active content types (e.g., ActiveX, applets, cookies, etc.). Enforcement of SafeSearch (DNS-based) for leading search engines per policy (user/group) is also possible.
Traffic shaping for web and applications
QoS (Quality of Service) and traffic shaping enable companies to efficiently control and prioritize data traffic in the network. With Sophos Web Protection, you can use advanced traffic shaping options by web category or application to limit or guarantee bandwidth, prioritize traffic, and customize upload/download rate or split bit rate.
Xstream TLS Inspection - Scan and inspect traffic
As an increasing proportion of web traffic is encrypted, for example through HTTPS, traditional firewalls can no longer scan it effectively. This is where SSL scanning and TLS inspection come into play. Sophos Web Protection offers Xstream TLS Inspection to scan encrypted traffic for threats as well. This feature allows SSL/TLS traffic to be decrypted, analyzed, and re-encrypted without compromising user security or privacy.
Application Control - Flexible and efficient application control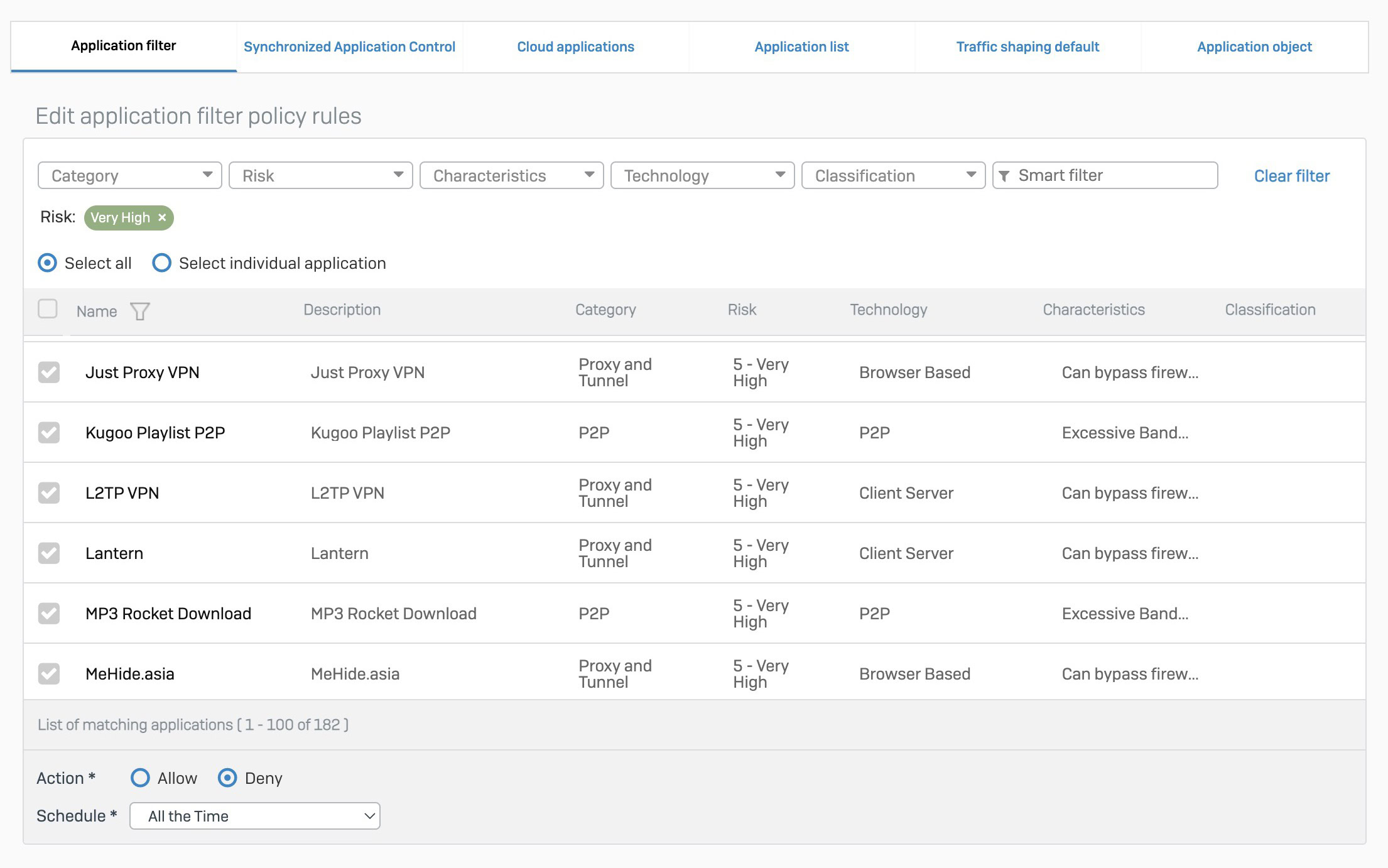 The Application Control feature in Sophos Web Protection enables identification and control of thousands of applications based on signature patterns, categories and risk levels. App-Control smart filters enable dynamic policies that automatically update as new patterns are added. Enterprises can increase visibility into cloud applications and identify shadow IT at a glance.
Synchronized App Control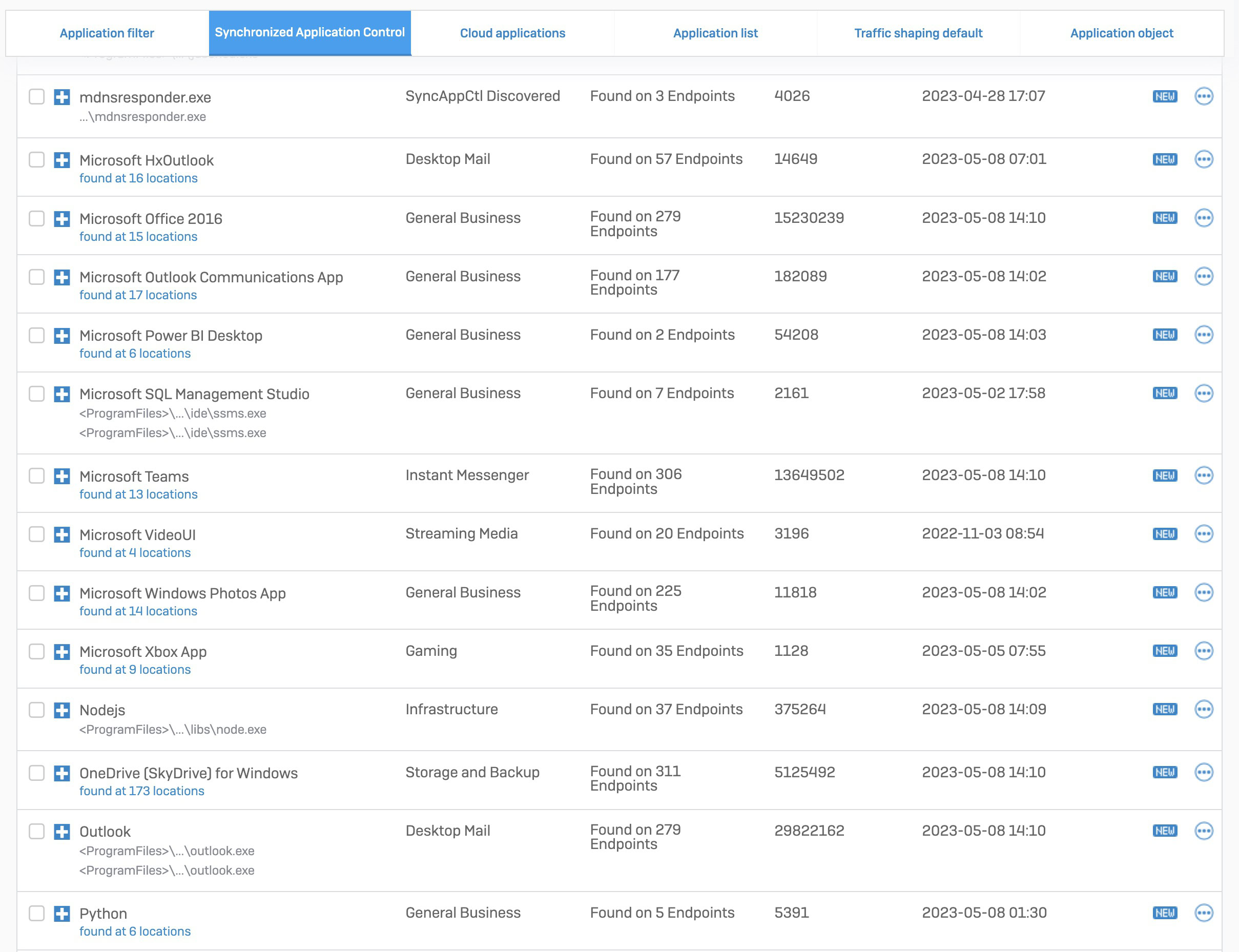 The Synchronized App Control feature is part of Sophos's Synchronized Security, a comprehensive security solution that enables the exchange of information between different Sophos products. Synchronized App Control automatically detects, classifies and controls unknown Windows and Mac applications on the network by exchanging information between Sophos-managed endpoints and the firewall.
Sophos Web Protection provides flexible controls to manage access to applications by user, group, category and risk. IT administrators can create and enforce custom policies tailored to their organization's unique requirements and security concerns. This granular control makes it possible to effectively manage network protection and productivity while ensuring that critical applications and services run smoothly.
Reporting - detailed insights into web and application activities
Sophos Web Protection 's extensive reporting capabilities allow organizations to log and monitor all of the above. Detailed reporting and analytics provide valuable insight into web access, application usage, and detected threats to continuously improve the level of security in the enterprise.