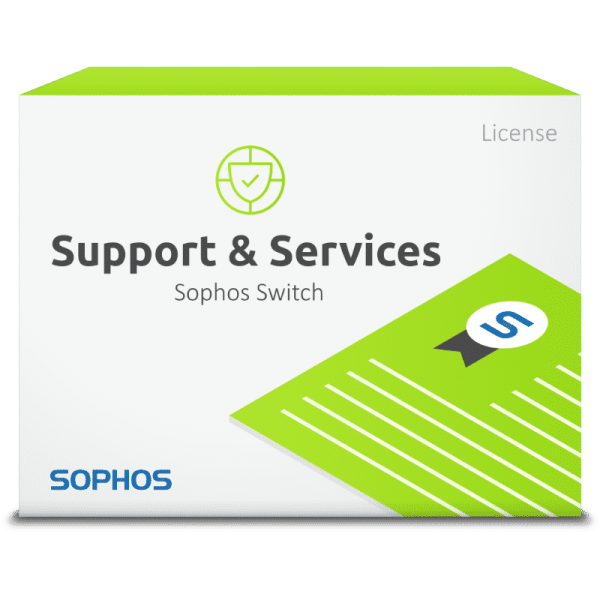 Sophos Switch Support and Services for CS101-8FP
41,52 € - 124,55 €
---
Sophos Switch Support and Services provide advanced integration with Sophos Central, enabling users to manage their switches more efficiently and securely. The service is specifically designed to provide a smooth and integrated experience.
The new Sophos Switch series is more than just another switch. It is the beginning of a new era in network management. With the support and services that Sophos offers, users can be sure that they will always get the best possible support and the latest features. It's a significant step forward and a testament to how much Sophos invests in its products and its customers.
Main functions and advantages
Purchasing a Support and Services subscription for any Sophos Switch provides the following:
Centralized management via Sophos Central: This feature allows you to schedule firmware updates to the switches and manage the switches centrally.
Advanced RMA support: An advanced replacement service that ensures your business processes are not impacted by hardware issues.
24 × 7 phone support: At any time of the day or night, a team of professionals is ready to help with any support issues.
Firmware updates: The ability to keep switches up-to-date for maximum security and performance.
Remote access for support team: Enables full troubleshooting and debugging to quickly resolve any issues.
For those wondering what happens after the 3-month grace period expires, without a valid subscription, Switches will remain visible in Sophos Central, but will be in an inactive state. This means that configuration changes, scheduled backups and firmware upgrades will not be possible.
Why Sophos Switch support and services?
Sophos has a vision to complete the network ecosystem with their products. Sophos Central connectivity provides an easy and convenient way to manage your Firewalls, Access Points, and now Switches. This not only creates a central console for all products, but also a strong selling point for those already in the Sophos ecosystem or looking to build on it.