The advanced version for Sophos Central Email has been a long time coming. It was originally announced for the end of 2016. One and a half years later than planned, the Advanced version is now coming onto the market after all and supplements the Standard version with important functions.
Sophos Sandstorm
Sophos Sandstorm as a product is nothing new, but as a new feature in Sophos Central Email Advanced, it is well worth mentioning! Those who already scan their emails with a UTM, XG or email appliance can license Sophos Sandstorm as an add-on product since 2016 and benefit from the features. You can read all about Sophos Sandstorm in the following blog post: Sophos Sandstorm: sandboxing against zero-day malware and APTs
However, there is something that has changed about Sophos Sandstorm since 2016. SophosLabs data centers, which are used by Sophos to scan email attachments, are now using Intercept X machine learning to better detect malware.
Time-of-Click URL Protection
A really new and very useful feature, is the "Time-of-Click URL Protection". This feature is Sophos's response to the problem that malware often no longer hides directly in emails because it is detected there too early. Instead, you're tempted to click on a link that takes you to a website where the surprise is waiting for you. Time-of-Click URL Protection follows the URLs when scanning these emails and checks the destination website first before forwarding the email to the mailbox.
Of course, an up-to-date browser in combination with Intercept X, which protects against exploits, could also help here. But of course, it is even better if the emails are blocked before they reach the server.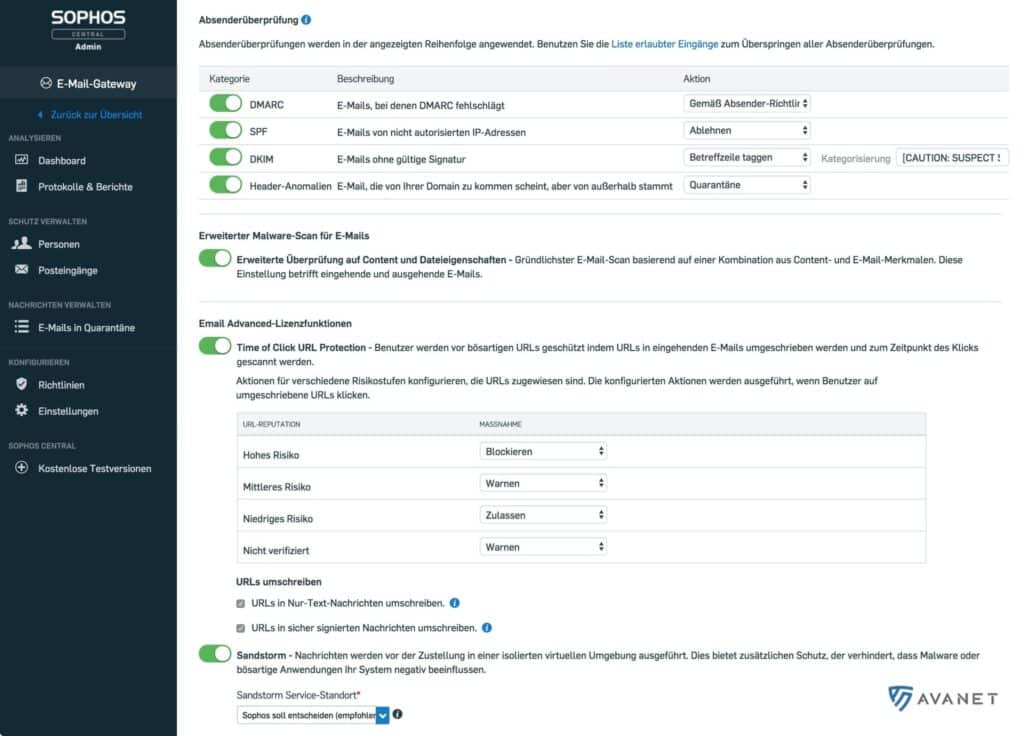 Standard version also gets new features
If you are already using Sophos Central Email Standard, you can enjoy three new and completely free features. Firstly, you can now specify that emails are only accepted from trusted senders who have implemented SPF, DKIM or DMARC. In addition, you get multi-policy support and outbound mail scanning. 🎉
Forced upgrade for monthly licenses
We never really wanted to be in this position, but now Sophos has thrown us in at the deep end. Some of you may know that Sophos has two licensing models. You can either buy the licenses for 1, 2 or 3 years or rent them on a monthly basis. In the monthly model, which we no longer offer publicly for various reasons, billing is done monthly based on usage.
On May 20, 2018, we were asked as Sophos partners if we would like just the Standard or Advanced, or both versions for the monthly model. Our answer, as well as that of 90% of the other partners was quite clear: both versions! After that, we heard nothing more.
At June 29, 2018, we were then informed via Sophos newsletter that all Standard licenses in the monthly (MSP) model will be automatically switched to Advanced and there will be no Standard version in the future. The conversion will be carried out by the June 30 to July 1 carried out.
So we were informed 3 hours before the weekend that our customers will have to pay more in the future.
---
More information