Sophos Central's endpoint portfolio is once again being expanded with a new product. It's called Sophos Central Intercept X Advanced with EDR, and you can find out if it's for you in this blog post.
The Sophos Central Endpoint products
Before we get into EDR in more detail, I'd like to briefly show you where the new product fits in at Sophos Central in the first place. Sophos has recently cleaned up its endpoint products a bit, moving features and renaming products . Including the latest EDR product, Sophos currently offers us the following choice:
EDR – Root cause analysis for advanced users
As you can actually deduce from the product name, EDR is an advanced feature for Intercept X that Sophos seems to think adds too much value to be delivered as a free update.
The term "EDR" stands for "Endpoint Detection and Response" and this function is, in short, interesting for all those who want to get to the bottom of the cause of an attack in more detail. The Root Cause Analysis feature already included in Intercept X is certainly not a bad start here, but EDR goes a bit further to provide an even deeper understanding of the scope and impact of an attack.
Where EDR can help
I think I'm not entirely wrong when I say that the majority of users out there don't care exactly why Endpoint Protection or Intercept X has struck. The software should simply take care of preventing the attacks in the background and not cause any damage to the system. Maybe every now and then you will see a short message that a file has been blocked and moved to quarantine. But that's all you really want to hear.
Usually, however, larger companies want to know more and have an internal or external security team that analyzes the blocked files or programs in more detail. After all, it could be that an exploit prevented by Intercept X is just a harbinger of a much larger attack.
Intercept X Advanced with EDR helps you detect, investigate and respond to suspicious activity that might otherwise have gone undetected. Find out for yourself if it is a real threat or just a false positive.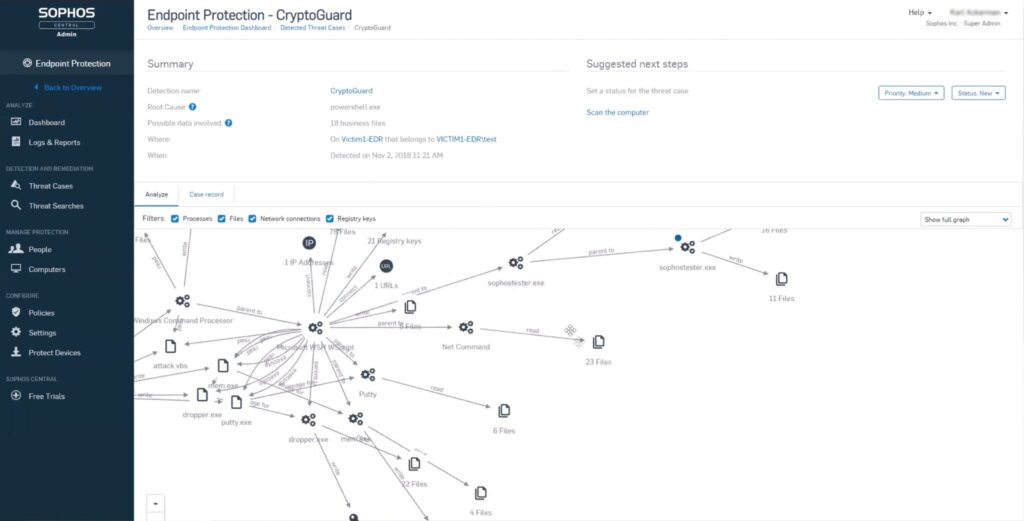 More information
If you are interested in this topic and want to take a closer look at Intercept X Advanced with EDR, we have compiled the appropriate material for you here.
Would you like to see an Intercept X marketing video come out with EDR when neither the people in the video, nor the video producers have even begun to understand what EDR is exactly? The video is so meaningless and definitely deserves the first place of the worst Sophos videos in our opinion. So if you don't have anything better to do right now and want to give away 2:11 minutes of your life time, you can find the link to the video below:
Try Sophos Intercept X Advanced with EDR now!
If you don't have a Sophos Central account yet, you can create one on the Sophos website and try all the features, including "Sophos Intercept X Advanced with EDR", for free for 30 days.
If you already have a Sophos Central account and the 30-day trial period has expired, you can order a license for "Sophos Intercept X Advanced with EDR" in our store: