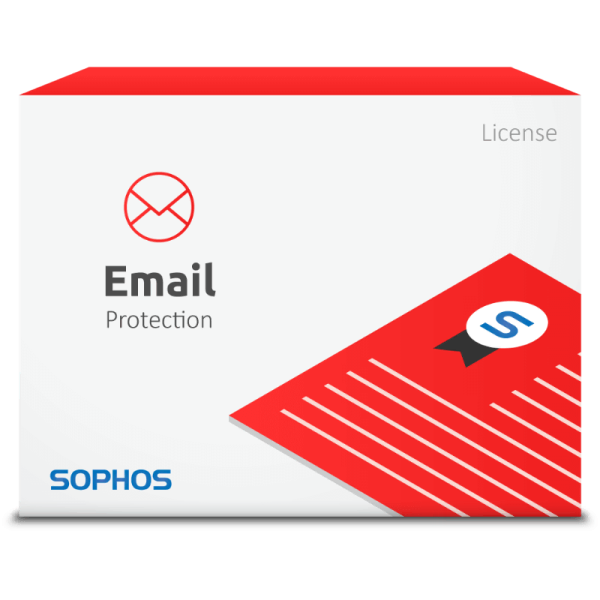 Sophos XG 550 Email Protection
2.583,31 €
Description
Learn more about the
Sophos Email Protection
Email security is essential for any organization to protect confidential information and defend against cyber threats such as spam and malware. Sophos Email Protection provides your IT administrator with a powerful, integrated security suite with multiple features to protect your email communications.
Sophos Central Email Advanced – The better solution
Sophos Central Email Advanced, is the solution from Sophos, which is still under active development and is the better solution, both in terms of functionality and technology, than email scanning on the firewall. Functions such as S/MIME, Microsoft 365 integration, time-of-click protection - phishing and malware protection, are forgiven on the firewall.
Integrated Message Transfer Agent
The integrated Message Transfer Agent (MTA) enables email to be processed and filtered directly through the Sophos Firewall. This increases the efficiency and security of e-mail communication and reduces the load on the internal mail server.
With Email Protection you get two antivirus engines running in parallel. They intercept current viruses, malware and malicious URLs circulated via email and prevent them from entering the network.
Key feature
Sandboxing: Detect and block unknown malware in emails
Sandboxing is an important feature of Sophos Email Protection that helps protect your business from malware infections. By analyzing email attachments in an isolated, virtual environment, potential threats can be detected and neutralized before they enter your email system.
Combined with Sophos Email Protection 's other security features, sandboxing provides additional protection against advanced cyberthreats that traditional anti-spam and anti-malware filters may not detect. This reduces the likelihood of a successful attack on your business and ensures the security of your confidential data and systems.
Key feature
Live anti-spam – keep inboxes spam free
The live anti-spam function can detect and block unwanted e-mails in real time. This helps maintain the integrity of your email system and increase employee productivity by automatically screening out unwanted emails.
With Email Protection, unwanted messages are blocked before they wreak havoc in your inboxes or prevent you from getting work done. Even the latest and constantly modified spam campaigns don't stand a chance.
Key feature
Self-service quarantine
Self-service quarantine allows users to review and manage potentially malicious or unwanted email in a secure environment. This reduces the likelihood of important emails being inadvertently classified as spam and enables faster response time in identifying and stopping threats.
Key feature
SPX Email Encryption – Secure confidential information with powerful encryption
SPX email encryption in Sophos Email Protection is an important security measure to ensure the integrity and confidentiality of email. Encryption of e-mails containing sensitive information protects this data from unauthorized access while it is being transmitted over the Internet.
SPX Email Encryption uses powerful encryption technology to ensure that only authorized recipients can access the contents of an encrypted email. The sender of an email can enable encryption by using a simple policy or a specific subject prefix, making the process both user-friendly and secure.
Similarly, SPX email encryption enables secure exchange of encrypted messages between different email clients and platforms without the need for additional software or plug-ins. Recipients of an encrypted e-mail can easily decrypt it by entering a password that has been communicated to them separately.
Using SPX email encryption helps ensure compliance with privacy regulations and internal security policies. Companies can thus ensure that confidential data such as personal information, trade secrets or financial data is protected during electronic communication.
Key feature
Data Loss Prevention – Protecting confidential data and minimizing risks in email communication
The Data Loss Prevention (DLP) feature in Sophos Email Protection is an important tool to prevent accidental or malicious loss of confidential information. DLP enables IT administrators to create and enforce specific policies for detecting and controlling sensitive data in email to ensure your corporate data remains safe and secure.
Data Loss Prevention allows IT administrators to monitor email communications based on user-defined rules and criteria. These can concern, for example, keywords, file attachments, file types or data patterns. Once an email is deemed potentially risky, the DLP feature can automatically block the message, quarantine it, or send an alert to the sender or administrator.
By implementing data loss prevention policies, organizations can:
Ensure compliance with regulatory and industry standards by preventing the unauthorized transmission of sensitive information such as personal data, credit card numbers, or intellectual property.
Reduce the risk of data leaks by preventing employees from accidentally or intentionally sharing confidential information via email.
Protect corporate reputation and minimize potential financial losses or legal consequences due to data leaks.
Key feature
Block unwanted content – control over email attachments
The block unwanted content feature in Sophos Email Protection gives IT administrators the ability to control specific file types sent or received via email. This makes it possible to proactively manage potentially risky or inappropriate content such as MP3s, video files, software programs and more.
By blocking unwanted content, organizations can increase the security and integrity of their email communications. Controlling the type of files that circulate through the email system minimizes the risk of confidential data being compromised or unwanted programs being installed. This feature is particularly useful for ensuring compliance with corporate policies and regulatory requirements while promoting employee productivity.
Avanet Services
Let us improve your safety
Our services are designed to help you keep your Sophos products running securely and reliably. In addition to the classic support for Sophos Firewalls or the Central platform, we offer the following services, which can be requested from us at any time:
Setup Services
Health Check
Upgrades
Workshops
Migrations
Firewall maintenance
SLA
Security audits
Request more information
Setup Services
Want to have your Sophos products set up by professionals? We support you during commissioning and configuration for smooth operation.
Migrations
You would like to change from your SG Firewall (UTM) to a XGS Firewall with the SFOS operating system? Thanks to our experience, we can also manage your changeover without any worries.
Health Check
You have set up your Sophos products yourself and would like us to check the configuration? We will check your settings and give our recommendation.
Workshops
Is it your job to be knowledgeable about Sophos products in your organization? We offer targeted training that is completely tailored to your needs.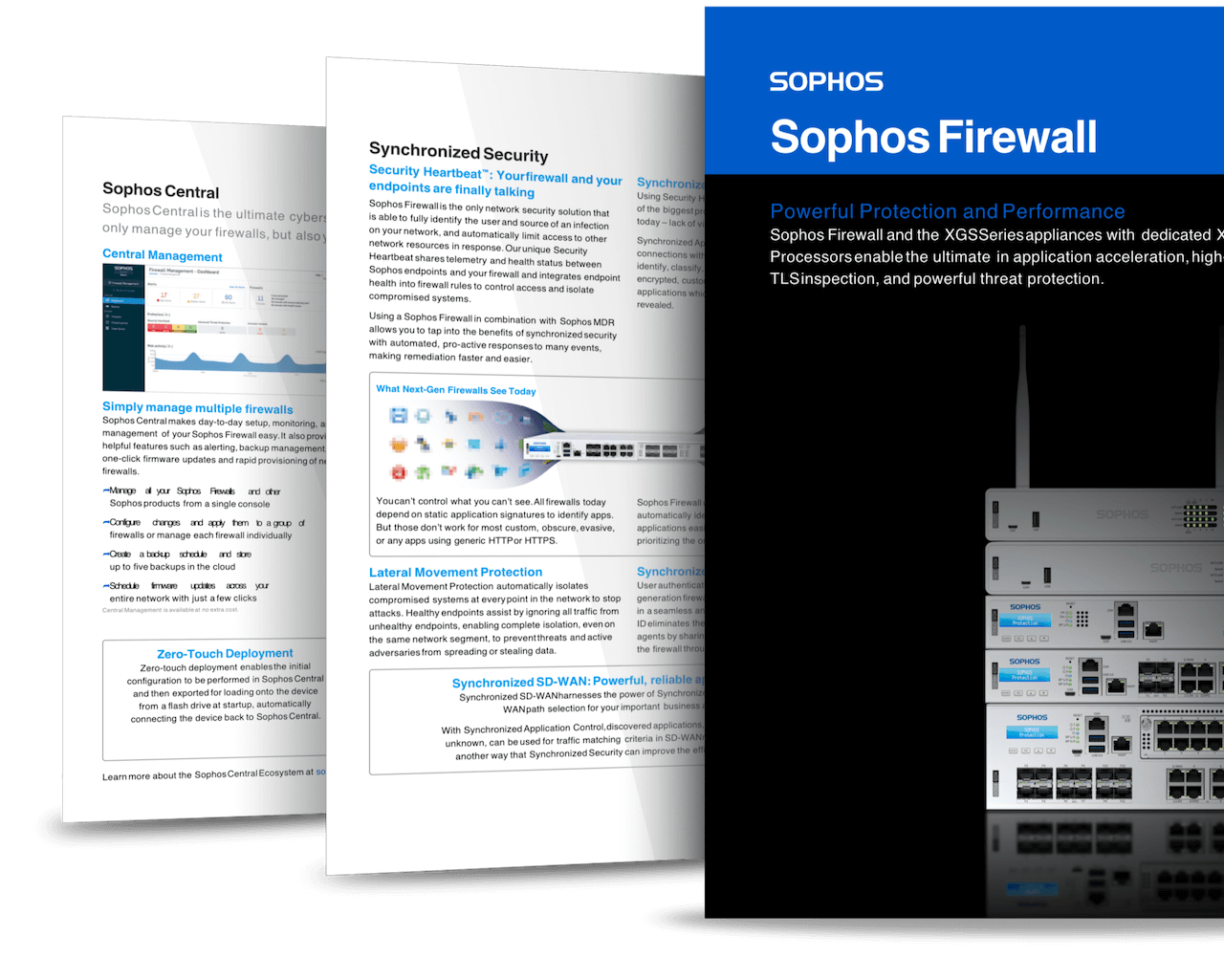 EDUCATION & GOVERNMENT
Special awards for educational and government institutions
Sophos offers special discounts for schools and government institutions to meet specific budget requirements. A discount of at least 20 % can be expected.*
Ask us and we will prepare an offer for you completely free of charge and without obligation.
* Special pricing for educational and government institutions is only available in the DACH region.
Request special prices
Trial version
Try Sophos Firewall free
Familiarize yourself with the Sophos Firewall user interface before purchasing. See for yourself how intuitive this advanced operating system is and learn about all the features of Sophos Firewall.
Use the online demo for instant access directly in the browser, without installation. Or download the Sophos Firewall software for free (ISO) and install it on your own hardware.
Use the following credentials to start your online demo. Username: demo / Password: XG@demOuser
Help with purchase
Are there any questions about the product?
It is better to ask again before buying, before you end up holding the wrong product in your hands.
Ask question