So today is the day and the official launch for Intercept X 2.0 can be celebrated. All those who have already purchased Intercept X 1.0 will automatically benefit from the new technologies, such as Deep Learning, because Intercept X 2.0 comes as a powerful update. Let's start with the teaser video for Intercept X 2.0:
What's new?
It's been a little over a year now since we featured Intercept X on our blog. The product was and still is a huge success and gives you the security you need against the latest attack methods. While the Endpoint Standard or Advanced have honestly not received any more real renewals, the new malware security mechanisms are being incorporated into Intercept X. We already announced the new main feature of Intercept X 2.0, "Machine Learning", in our last Machine Learning post. Now it is available for all Windows users.
Users with a Mac had to wait a long time for Intercept X. Today, Intercept X has been released for macOS for the first time, but only with the features of version 1.
If you want to learn a bit more about Deep Learning in Intercept X, you can watch the following video from Sophos:
As of today, Synchronized App Control finally works, a feature we announced shortly with the release of SFOS v17. Until now, this feature was only available if you were part of the Early Access Program (Beta).
Enable Deep Learning in Central
If you use Sophos Central's recommended settings, this new technology will be automatically enabled for you. To be sure that Deep Learning is really activated for you, you can proceed as follows:
Log in to Central > Sophos Central Login
Dashboard > Endpoint Protection > Policies
Under Threat Protection now check if Deep Learning is enabled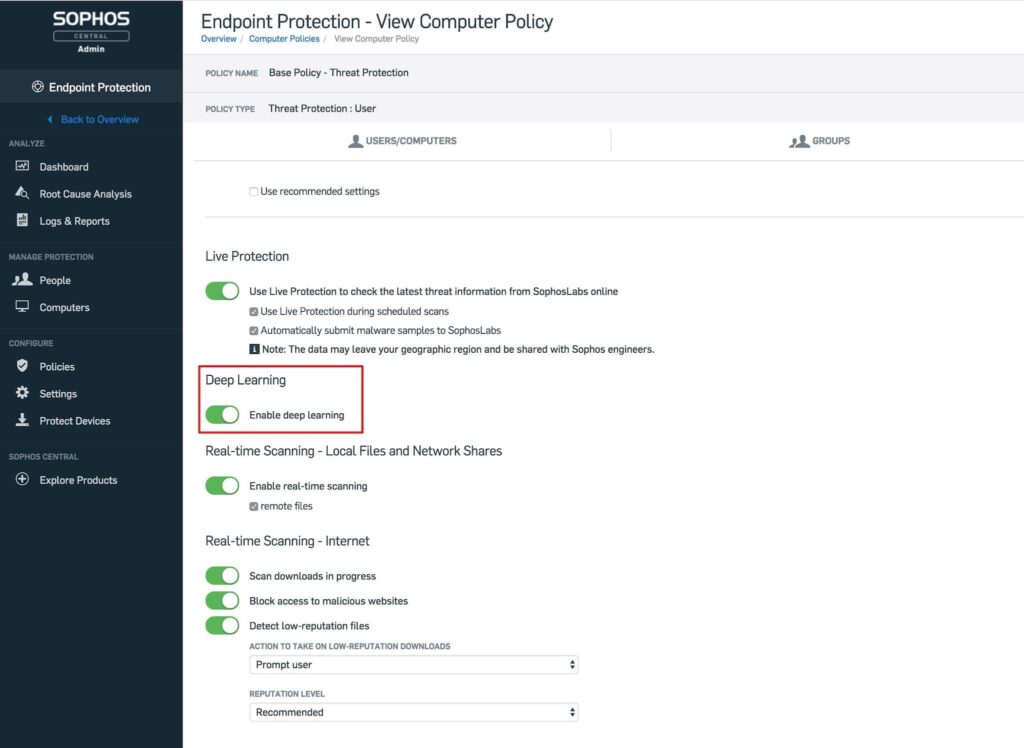 Never heard of Intercept X?
If you haven't heard of Intercept X before, you can read our earlier news article on the one hand, or watch the following video from Sophos, which briefly introduces the product in 2 minutes:
Intercept X runs smoothly alongside your antivirus and comes with the following main features in summary:
Stop Ransomware
Exploit Prevention
Root cause analysis
Removal of malware without residues
Synchronized Security
Try Sophos Intercept X 2.0 now!
As said, Intercept X 2.0 is an update and not an additional product. So those who already use Intercept X can take advantage of the new features starting today.
Those who have not been convinced by Intercept X so far, but would definitely like to get an idea of the new features after this update, can test it for free for 30 days. All that is required is a Sophos Central account.
If you don't have a Sophos Central account yet, you can create one on the Sophos website and try all Central features, including "Sophos Intercept X", for free for 30 days.
If you already have a Sophos Central account and the 30 days trial period has expired, you can order a license for "Sophos Intercept X" in our store:
---
Learn more about Sophos Intercept X 2.0: