Currently, there are the XGS and XG Firewalls running the SFOS. For those who prefer the UTM operating system, the SG series is still available. However, the sale of the XG Firewalls will be discontinued shortly, making it a bit clearer again when choosing a new firewall.
The history of the XG hardware
In September 2017, the revision 2 of the rack models followed, for both the XG and SG series. New desktop models were not long in coming, and so the new 3rd generation XG/SG models appeared in April 2018. For the first time, there were at least optical differences between the SG and the XG series.
This was followed in September 2017 by the Revision 2 of the rack modelsfor both the XG and SG series. New desktop models were not long in coming, and so in April 2018, the new XG/SG models of the 3rd generation. For the first time there were at least optical differences between the SG and the XG series.
Since the XG 85(w) and XG 105(w) did not offer enough performance to support the SFOS in version 18, Sophos released the XG 86 and 106 with more RAM as successors in April 2019.
With the launch of the new XGS Firewall Series in April 2021, the days of the XG Firewall are now coming to an end.
For all UTM users, the SG models from 2017 (rack models) and 2018 (desktop models) are still current and as far as we know there are no new devices planned.
XG series goes end-of-sale
The XG Firewalls will be available until September 30, 2021 sold. After that, there are only remaining stocks. This step does not come as a surprise, since the new XGS hardware has already been available for over 3 months.
Einzig beim Zubehör gibt Sophos noch etwas mehr Zeit. Wer für seine XG Firewall vielleicht später noch ein neues Netzteil, Rackmount Kits, Wi-Fi, 3G/4G oder FleXi Port Module benötigt, kann dies bis Ende 2022 bei uns bestellen.
❗ Attention: The accessories for the XG are not compatible with the XGS hardware anymore.
End-of-life of the XG will already be at the end of 2024 🪦
For customers who have an XG Firewall in use, the end-of-life date is critical. On this date, Sophos will stop supporting the product and RMAs will no longer be processed. Sophos sets the end-of-life date for the XG series at 12/31/2024. This results in a last possible renewal date of 12/31/2023.
The end-of-life date is particularly hard on customers who have recently purchased an XG Firewall. Especially the 100% promo from Sophos, which is still offered, has increased the number of new customers. Nevertheless, one should not panic right away. A lot of time will pass until the end of 2024, and I would not be surprised if Sophos is ready with an attractive XG to XGS promo at the appropriate time. 😎
End-of-life also for software versions
Recently, Sophos announced that from the end of July 2021 old software versions will no longer be supported. When a new version is released, the predecessor automatically goes end-of-life.
This decision has a direct impact on the revision of an XG Firewall. Already today, SFOS v18 can no longer be installed on an XG 85(w) or XG 105(w). For all other XG models with revision 1 or 2, v18.5+ is the latest.
For this, we have already written a blog post some time ago, which pre-announces which hardware will soon be cut from new features: Sophos Firewall Appliances: Supported hardware for SFOS v18+
Security Made Simple 😜
Until around 2019, Sophos's slogan was always Security made simple.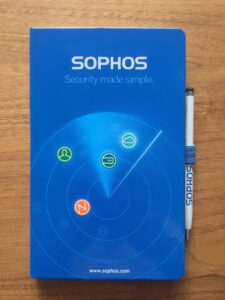 But little by little, this sentence disappeared from the data sheets and the website. Now you can find the phrase on the Cisco Meraki website. 😂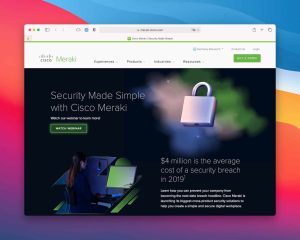 Sophos' security may still be very user-friendly compared to other vendors, but for existing customers, the changes in recent months have been quite challenging. Even for us, who deal with Sophos 100% every day, it is not always easy. Especially since Sophos is not exactly the communication champion and sometimes announces changes with only a few days' notice.
Regardless of how radical Sophos's latest decisions may be, they make sense for the following two reasons:
Even Sophos, as a larger company, has limited resources and cannot maintain multiple generations of hardware and software.
They want to continue to develop the platform and prepare it against new threats. This requires up-to-date hardware and software.
The exception
But every rule has an exception, and at Sophos, that exception is called "UTM". The UTM customers have made themselves comfortable in their armchairs and with these many changes around the SFOS platform, Sophos only gives them more reasons to stay with UTM.
Those who have continued to rely on an SG with the UTM operating system since November 2015 have so far been spared all the stress that XG customers have had to go through. Still, it's no secret that the future at Sophos belongs 100% to SFOS.
So, why is Sophos allowing this platform to continue? Well, Sophos is also a company that wants to make money at the end of the day. Currently, the UTM community is still too big and valuable to upset. Therefore, it is only a matter of time before an end-of-life date is set for UTM as well.