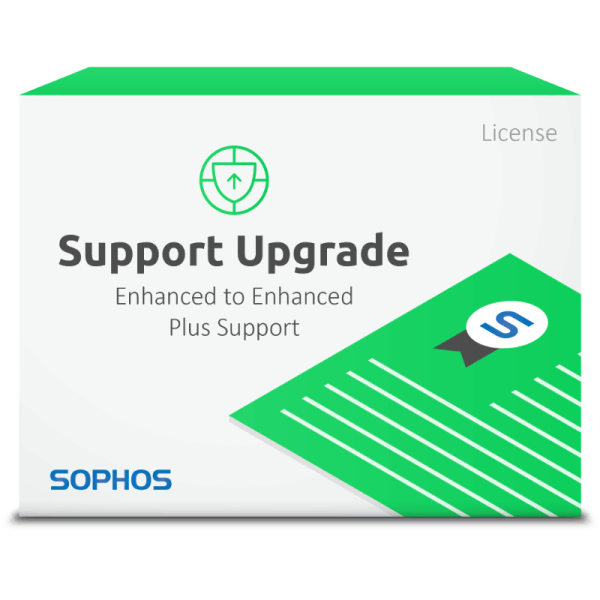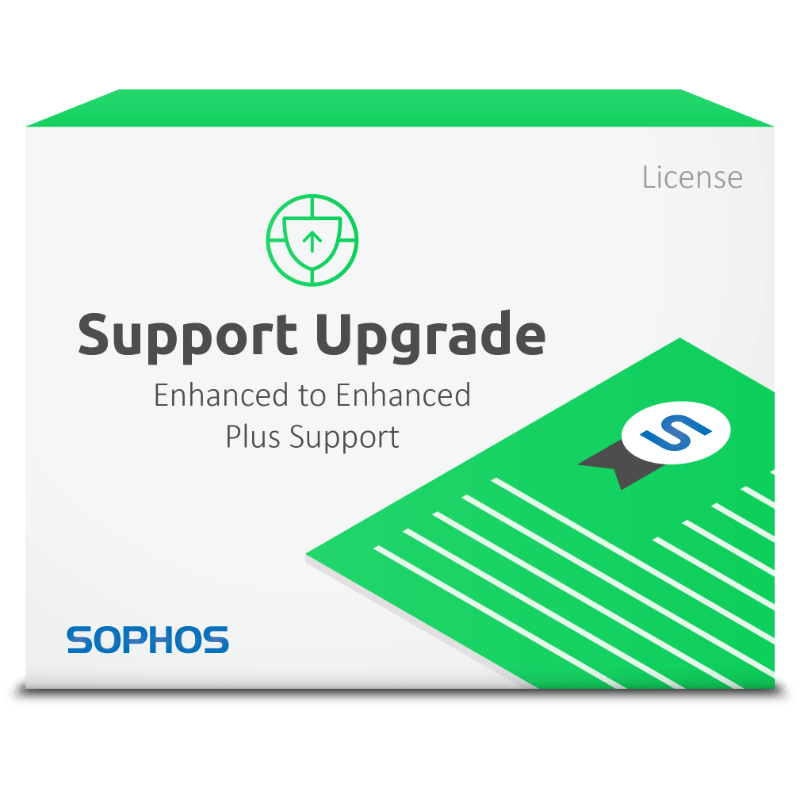 Sophos XGS 107 Enhanced to Enhanced Plus Support Upgrade
55,78 € - 209,52 €
Description
Learn more about the
Sophos Enhanced Plus Support
Sophos offers two different support plans for its firewalls, Enhanced and Enhanced Plus. This upgrade allows you to upgrade an Enhanced Support license to an Enhanced Plus license.
Important to know
Enhanced and Enhanced Plus Support is not a free pass to have the Sophos team take care of your firewall configuration for free. A support ticket should only be opened if a function of the firewall is no longer working properly in your opinion. Sophos Support will not accept requests because you lack the necessary knowledge to configure them. In such cases, please contact us so that we can configure the firewall as desired within the scope of our support conditions.
Sophos Enhanced Plus Support offers several additional benefits and services compared to Enhanced Support. Both support plans offer round-the-clock support, access to firmware updates and advance replacement in case of hardware failure. However, Enhanced Plus Support offers additional:
Direct-to-Level 2 Support: Your support requests are routed directly to Level 2 support engineers, resulting in faster resolution times. This allows you to bypass Level 1 and have direct contact with experienced technicians who have more in-depth knowledge of Sophos products and technologies.
Priority Case Handling: Your support cases are handled with priority. This means that your requests are processed more quickly, resulting in faster problem resolution.
Individual Customer Success Manager: You will be assigned a personal Customer Success Manager (CSM) who will act as your main point of contact at Sophos. The CSM is your personal contact for all support and service issues and helps you to get the maximum benefit from your Sophos solution.
Proactive Check-ups: Enhanced Plus Support provides proactive check-ups of your systems to identify and fix problems before they become major issues.
Service Level Agreement (SLA) with shorter response times: Enhanced Plus Support offers improved SLAs with shorter response times compared to Enhanced Support.
Remote Consulting: This service includes personalized consulting sessions with Sophos experts to optimize and effectively deploy your systems. All sessions can be flexibly scheduled and are conducted remotely to minimize interruptions. After each session, you will receive a detailed summary of the actions taken.
Expert support: Remote consulting gives you access to Sophos experts who can help you effectively implement and optimize your Sophos solutions. These experts have deep knowledge of Sophos products and technologies and can help you solve complex technical challenges.
VIP contact with senior support engineers: As part of Sophos Enhanced Plus Support, you get privileged access to senior support engineers from Sophos. These experienced professionals are available to tackle complex technical challenges and help you get the most out of your Sophos solutions. This VIP contact means that you always have a competent and reliable contact person who knows your systems and needs and can help you quickly and efficiently. This is a valuable resource that ensures your organization can get the full performance and value from your Sophos solutions.
These enhanced features of Enhanced Plus Support help you get the most out of your Sophos solutions and provide additional security and support.
HA Cluster
If you want to run a high availability cluster with two Sophos Firewall appliances in (active-passive mode), only the first appliance needs to be licensed. However, the second appliance requires Sophos Enhanced Plus Support to ensure that it is covered under warranty in the event of a hardware failure. Enhanced Plus Support ensures that your HA cluster is functioning optimally at all times and is supported quickly and efficiently when needed. Learn more: Sophos Support Services Guide
Why did I not get the full term when I activated my license key?
f the subscription to be activated is Enhanced Support or a bundle that includes Enhanced Support and the Firewall is out of warranty, then the term of the new subscription will be reduced to make up for the gap in warranty. Sophos performs a fair-value calculation based on the value of Enhanced Support to cover the gap and is capped at a maximum of six months. o, if the subscription to be activated is Enhanced Support and the previous subscription expired two months ago, the term of the new subscription will be reduced by two months. If the subscription is a bundle that includes Enhanced Support, then the term of the bundle is reduced by the number of days that is equivalent in value to Enhanced Support coverage for the gap. The calculations are based on the USD list price.
Warranty & Support
Sophos Support Plans
No matter which plan you choose: You will always receive first-class service. With tailored support from Sophos, business disruption is minimized and protection is maximized.
Standard
Support
Included in the purchase price of a hardware or virtual Base License.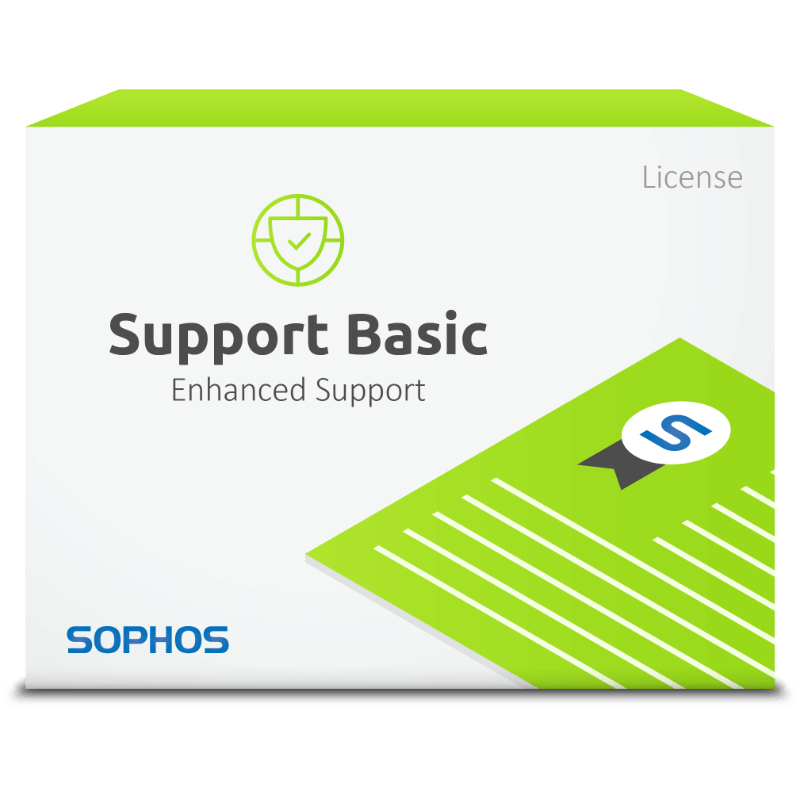 Enhanced
Support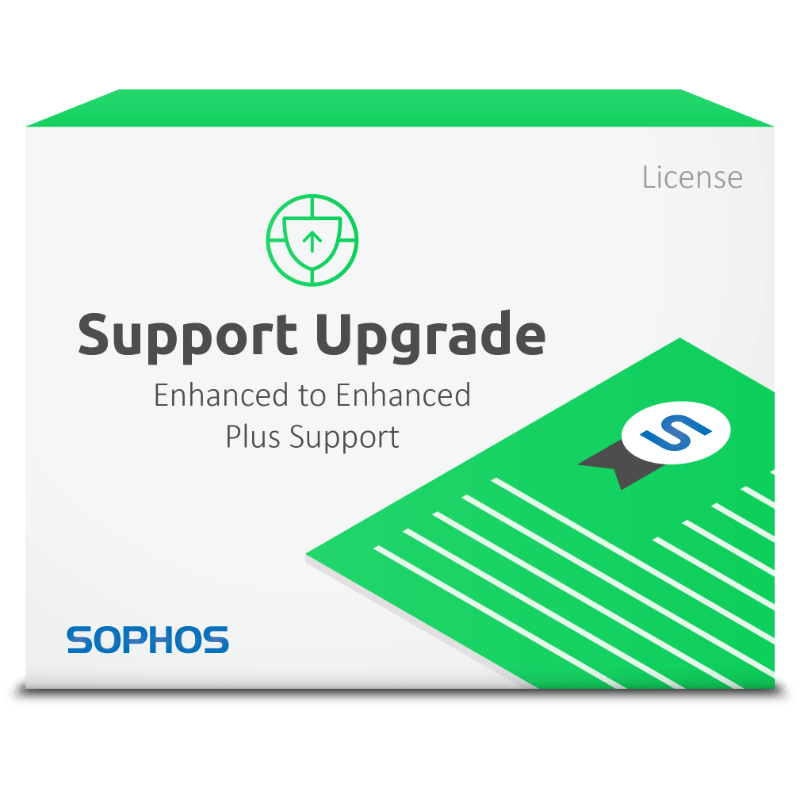 Enhanced Plus
Support
Standard
Support

Included in the hardware purchase price

Enhanced
Support

About the product

Enhanced Plus
Support

About the product

Support


By phone & email


for 90 days during business hours

24/7

24/7 with VIP contact to senior support engineers
Security Updates & Patches


Over the life of the product


the first 3 updates included

in active subscription

in active subscription
Software downloads, updates and maintenance

for 90 days
Hardware replacement & warranty

1 year (Return / Replace)

Advance exchange

Advance exchange
Access to support knowledgebase


and support forums

Remote Support
Remote Consulting

Up to 8 hours by senior Sophos engineer
Support & Warranty Extension


for connected access points/REDs

Preferred treatment


of problems and samples

VIP Contact


to Senior Support Engineers
Avanet Services
Let us improve your safety
Our services are designed to help you keep your Sophos products running securely and reliably. In addition to the classic support for Sophos Firewalls or the Central platform, we offer the following services, which can be requested from us at any time:
Setup Services
Health Check
Upgrades
Workshops
Migrations
Firewall maintenance
SLA
Security audits
Request more information
Setup Services
Want to have your Sophos products set up by professionals? We support you during commissioning and configuration for smooth operation.
Migrations
You would like to change from your SG Firewall (UTM) to a XGS Firewall with the SFOS operating system? Thanks to our experience, we can also manage your changeover without any worries.
Health Check
You have set up your Sophos products yourself and would like us to check the configuration? We will check your settings and give our recommendation.
Workshops
Is it your job to be knowledgeable about Sophos products in your organization? We offer targeted training that is completely tailored to your needs.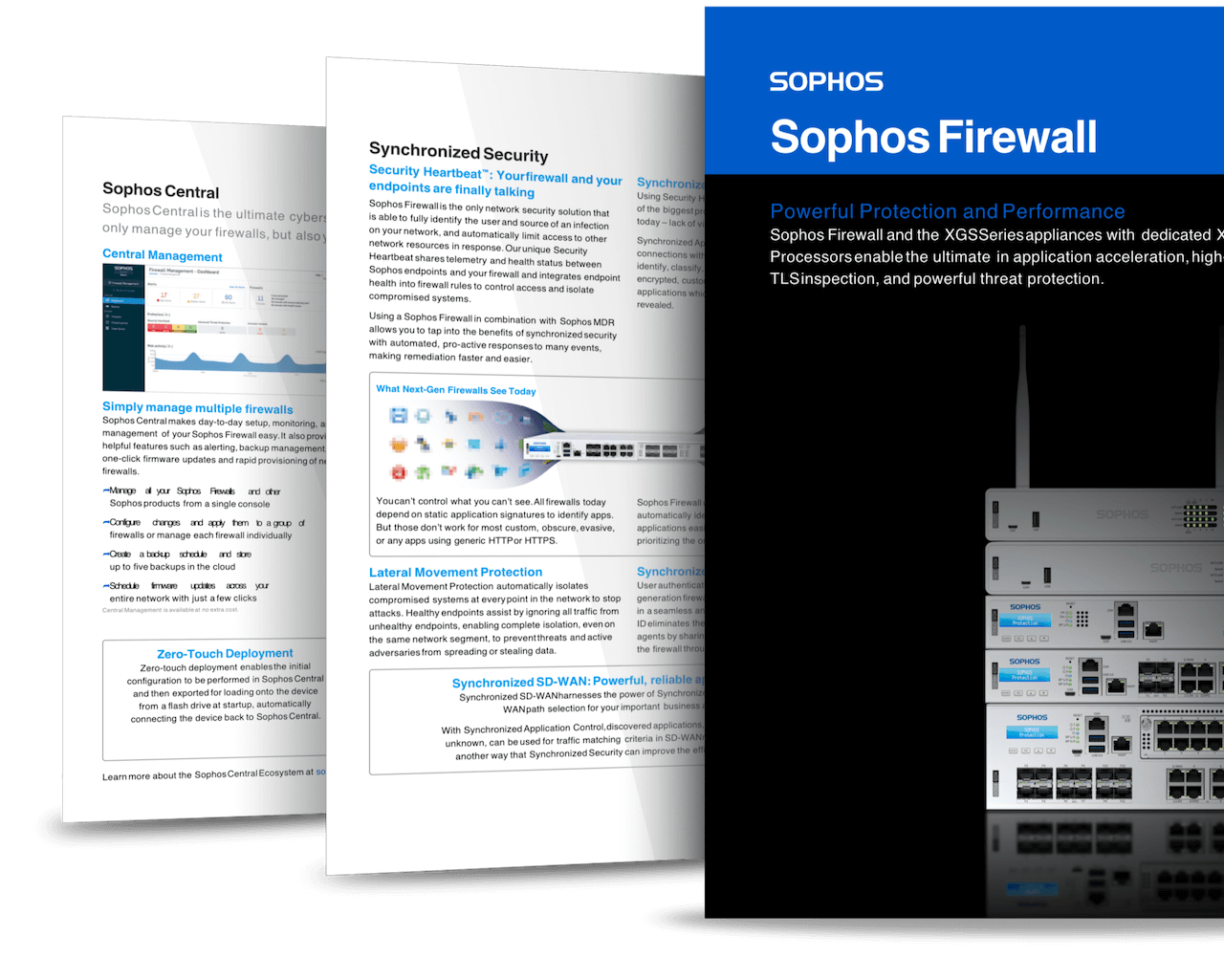 EDUCATION & GOVERNMENT
Special awards for educational and government institutions
Sophos offers special discounts for schools and government institutions to meet specific budget requirements. A discount of at least 20 % can be expected.*
Ask us and we will prepare an offer for you completely free of charge and without obligation.
* Special pricing for educational and government institutions is only available in the DACH region.
Request special prices
Trial version
Try Sophos Firewall free
Familiarize yourself with the Sophos Firewall user interface before purchasing. See for yourself how intuitive this advanced operating system is and learn about all the features of Sophos Firewall.
Use the online demo for instant access directly in the browser, without installation. Or download the Sophos Firewall software for free (ISO) and install it on your own hardware.
Use the following credentials to start your online demo. Username: demo / Password: XG@demOuser
Help with purchase
Are there any questions about the product?
It is better to ask again before buying, before you end up holding the wrong product in your hands.
Ask question