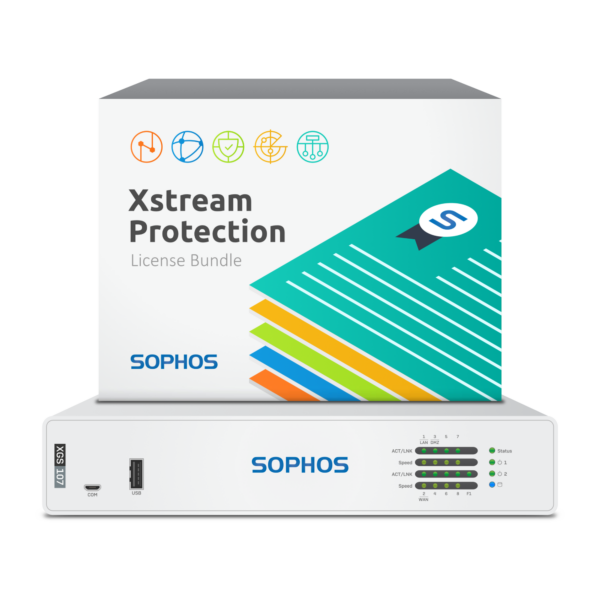 Sophos XGS 107w with Xstream Protection
1.301,86 € - 3.364,84 €
Free shipping to the European Economic Area (EEA), Switzerland and Liechtenstein for all orders over 200 CHF.
Xstream Protection - The popular modules combined in one bundle for one low price.
The following modules are included:
Network Protection
Web Protection
Enhanced Support
Zero-Day Protection
Central Orchestration
Technical Specifications
Compare the specifications of Sophos XGS 87 up to 136 in the following table. Not sure which firewall is right for you? We advise you free of charge and completely without obligation.
XGS 87

About the product

XGS 107

About the product

XGS 116

About the product

XGS 126

About the product

XGS 136

About the product

CPU (Core/Threads)
x86 AMD CPU
x86 AMD CPU
x86 AMD CPU
x86 AMD CPU
x86 AMD CPU
CPU (Memory)
4 GB DDR4
4 GB DDR4
4 GB DDR4
6 GB DDR4
8 GB DDR4
NPU (Core/Threads)
Marvell NPU
Marvell NPU
Marvell NPU
Marvell NPU
Marvell NPU
NPU (Memory)
2 GB DDR4
2 GB DDR4
4 GB DDR4
4 GB DDR4
4 GB DDR4
Firewall Throughput
3 700 MBit/s
7 000 MBit/s
7 700 MBit/s
10 500 MBit/s
11 500 MBit/s
Firewall IMIX
2 500 MBit/s
2 900 MBit/s
3 500 MBit/s
4 000 MBit/s
4 700 MBit/s
Latency (64 byte UDP)
6 µs
6 µs
8 μs
8 μs
8 μs
IPS Throughput
1 015 MBit/s
1 355 MBit/s
2 000 MBit/s
2 600 MBit/s
3 300 MBit/s
Throughput Threat Protection
240 MBit/s
330 MBit/s
685 MBit/s
900 MBit/s
1 000 MBit/s
Simultaneous connections
1 600'000
1 600'000
1 600'000
5 000 000
6 400 000
New connections/sec
35 700
44 400
61 500
69 900
74 500
IPsec VPN throughput
750 MBit/s
900 MBit/s
1100 MBit/s
1800 MBit/s
2500 MBit/s
Xstream SSL/TLS Inspection
375 MBit/s
420 MBit/s
650 MBit/s
800 MBit/s
950 MBit/s
Concurrent connections XStream SSL/TLS
8192
8192
8192
12288
18 432
Storage (local quarantine/logs)
16 GB eMMC
Integrated 64 GB SSD
Integrated 64 GB SSD
Integrated 64 GB SSD
Integrated 64 GB SSD
Ethernet interfaces (fixed)
4 GbE copper, 1 x SFP fiber optic
8 GbE copper, 1 x SFP fiber optic
8 GbE copper 1 GbE SFP
12 GbE copper, 2 x SFP fiber optics
10 GbE copper, 2-port 2.5 GbE copper, 2 x SFP fiber
Power over Ethernet (min.)
-
-
1 x GbE 803.2at (max. 30 W)
2 x GbE (max. 30 W per port)
2 x 2.5 GbE (max. 30 W per port)
Administrative ports
1 x COM (RJ45), 1 x Micro-USB (cable incl.)
1 x COM (RJ45), 1 x Micro-USB (cable incl.)
1 x COM (RJ45), 1 x Micro-USB (cable incl.)
1 x COM (RJ45), 1 x Micro-USB (cable incl.)
1 x COM (RJ45), 1 x Micro-USB (cable incl.)
Other I/O ports
1 x USB 2.0 (front), 1 x USB 3.0 (rear)
1 x USB 2.0 (front), 1 x USB 3.0 (rear)
1 x USB 2.0 (front), 1 x USB 3.0 (rear)
1 x USB 2.0 (front), 1 x USB 3.0 (rear)
1 x USB 2.0 (front), 1 x USB 3.0 (rear)
Number of expansion slots
-
-
1
1
1
Connection modules (optional)
SFP DSL module (VDSL2), SFP transceiver
SFP DSL module (VDSL2), SFP transceiver
SFP DSL module (VDSL2), 3G/4G module, SFP transceiver
SFP DSL module (VDSL2), 3G/4G module, SFP transceiver
SFP DSL module (VDSL2), 3G/4G module, SFP transceiver
Assembly
Rack mount kit available (must be ordered separately)
Rack mount kit available (must be ordered separately)
Rack mount kit available (must be ordered separately)
Rack mount kit available (must be ordered separately)
Rack mount kit available (must be ordered separately)
Dimensions width x depth x height
230 x 44 x 205.5 mm
230 x 44 x 205.5 mm
320 x 44 x 213 mm
320 x 44 x 213 mm
320 x 44 x 213 mm
Weight
1.36 kg (without packing) 2.75 kg (with packing)
1.4 kg (without packing), 2.8 kg (with packing)
2.2 kg (without packaging) 4.2 kg (with packaging)
2.4 kg (without packaging) 4.4 kg (with packaging)
2.4 kg (without packaging) 4.4 kg (with packaging)
Power supply
External, automatic range adjustment AC-DC 100-240 VAC, 1.7 A@50-60 Hz 12 VDC, 5 A, 60 W
External, automatic range adjustment AC-DC 100-240 VAC, 1.7 A@50-60 Hz 12 VDC, 5 A, 60 W Optional second redundant power supply Power supply
External, automatic range adjustment AC-DC 100-240 VAC, 2.5 A@50-60 Hz 12 VDC, 12.5 A, 150 W Optional second redundant power supply power supply
External, automatic range adjustment AC-DC 100-240 VAC, 2.5 A@50-60 Hz 12 VDC, 12.5 A, 150 W Optional second redundant power supply power supply
External, automatic range adjustment AC-DC 100-240 VAC, 2.5 A@50-60 Hz 12 VDC, 12.5 A, 150 W Optional second redundant power supply power supply
Power consumption
23.2 W/79.16 BTU/h (87) (idle) 43.4 W/148.09 BTU/h (full load)
26.1 W/89.06 BTU/h (idle), 53.9 W/183.91 BTU/h (full load)
28 W, 96 BTU/h (idle), 57 W/195 BTU/h (full load)
30 W/102 BTU/h (idle), 59 W/202 BTU/h (full load)
30 W/102 BTU/h (idle), 62 W/212 BTU/h (full load)
Incl. Use of PoE
-
-
38 W/130 BTU/h (full load)
76 W/260 BTU/h (full load)
76 W/260 BTU/h (full load)
Operating temperature
0 °C to 40 °C (operation), -20 to +70 °C (storage)
0 °C to 40 °C (operation), -20 to +70 °C (storage)
0 °C to 40 °C (operation), -20 to +70 °C (storage)
0 °C to 40 °C (operation), -20 to +70 °C (storage)
0 °C to 40 °C (operation), -20 to +70 °C (storage)
Humidity
10 % to 90 %, non-condensing
10 % to 90 %, non-condensing
10 % to 90 %, non-condensing
10 % to 90 %, non-condensing
10 % to 90 %, non-condensing